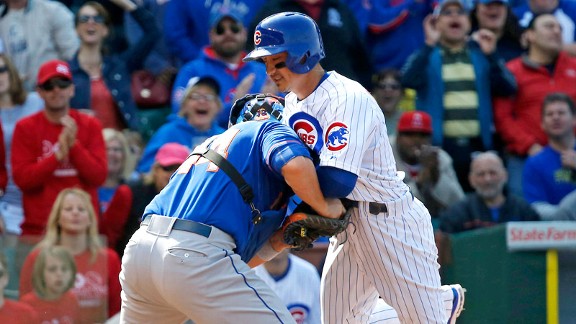 Charles Rex Arbogast/Associated Press
Darwin Barney is out at the plate in the eighth inning, preserving Matt Harvey's 3-2 win.
CHICAGO -- Matt Harvey could not recall another big hit in his baseball career, much less one with Friday's magnitude.
"I don't know. I don't remember," Harvey said. "I got a few in high school. I didn't hit in college."
In a decision Terry Collins described as "easy," Harvey was left in to hit with two outs in the seventh inning, with Rick Ankiel at second base and the score tied. He came through with the tiebreaking RBI as the Mets beat the Chicago Cubs 3-2 at Wrigley Field.
#33 SP
New York Mets
2013 STATS
"After the second at-bat and looking pretty silly out there I just wanted to put it in play," Harvey said, referring to a fifth-inning strikeout. "I know Rick can fly around the bases. If I was able to sneak one through the infield or put a good swing on the ball, he was obviously going to score, like he did."
As much as the Mets have struggled to score runs, Collins suggested it was a no-brainer to allow Harvey -- who was coasting on the mound -- to bat for himself.
"It was easy," Collins said. "To be honest, I just said I've got to let him get us deeper in the game. Fortunately he came through with the big hit for us. He can swing the bat, but we already had made up our mind he was going to go out there the next inning. … We aren't scoring. And I know one thing: He's mowing them down. In my opinion it was going to give us one more inning of a zero up on the board. And that's exactly what he did."
Harvey, after allowing a pair of first-inning runs, ultimately limited Chicago to two runs on five hits and no walks while striking out six in 7⅓ innings. He improved to 5-0, with his ERA creeping modestly upward to 1.55.
Harvey met with John Buck and pitching coach Dan Warthen in the dugout after the first inning and changed his approach. The Cubs were jumping on Harvey's early-count fastballs and hammering them hard in the opening inning, so Harvey started to throw other pitches in fastball counts to cross up the batters. Harvey said he also had to adjust to a relatively flat mound at Wrigley Field. He retired 14 straight and 20 of 21 at one point.
"They were being pretty aggressive, so we started a few of them off with some curveballs and changeups to get them off of his heater," Buck said.
The ability for a young pitcher to make that adjustment impressed Collins.
"You can't say it enough: This is a different animal," the manager said. "This guy is different. He's not your run-of-the-mill young pitcher. This guy has got some savvy, he's got great confidence and he knows how to pitch. He just doesn't have a great arm."
Harvey avoided a no-decision when right fielder Marlon Byrd threw out Darwin Barney at the plate by a comfortable distance on David DeJesus' eighth-inning single against Scott Rice, which preserved a one-run lead. Byrd had entered the previous half-inning to hit for Jordany Valdespin.
"I was kind of shocked," Byrd said about noticing how much distance Barney still had to cover after the throw had been released. "But I understand it. A guy coming in later in the game, maybe he's not loose, maybe he's not ready. It's just one of those things I made a good throw and got him. I got to it hard, fielded it clean, got both laces on my fingers and just let it go right on line. It's one of those things you work on over and over again."
Collins removed Harvey in the eighth after 106 pitches with the tying run on second and one out, concerned his pitches had started to creep upward in the strike zone, particularly against Barney. Collins said he was prepared to use Harvey for 115 pitches.
Does he fight the temptation to use Harvey beyond that pitch limit -- say to 130 pitches? Yes, Collins said. But he cannot risk the future for one game in the present.
"I do," Collins said about fighting temptation. "There's no doubt about that."