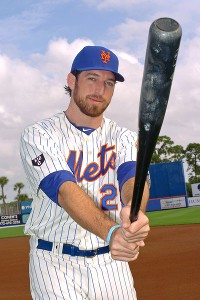 Steve Moore/Associated Press
Ike Davis is in serious danger of a demotion.
CHICAGO -- Although Ike Davis snapped an 0-for-24 skid Friday in a 3-2 win against the Chicago Cubs, the internal discussion about potentially demoting the first baseman has only intensified, ESPNNewYork.com has learned.
In fact, Davis may not have much more than the weekend series at Wrigley Field to show enough to stave off a demotion, according to a team source. The front office is said to be more eager to demote Davis than Terry Collins, who fought for Davis to remain at the major league level last year.
One telltale sign a change may be coming: Andrew Brown played first base Friday with Triple-A Las Vegas after previously playing only outfield for the 51s this season. Brown actually has played more minor league games in his career at first base than any other position. He went 3-for-15 during a stint with the Mets that ended Monday when Rick Ankiel was signed.
Brown, who is on the 40-man roster, would need to remain in the minors for 10 days, so he could not be swapped for Davis until the middle of next week. Zach Lutz also is on the 40-man roster and would be a candidate, but the organization likely would view Brown as the best choice. Josh Satin, although he is hitting .303 with the Pacific Coast League club, is not on the roster. That puts him at a decided disadvantage, even though he has been Las Vegas' primary first baseman.
Davis is hitting .160 with four homers and nine RBIs in 131 at-bats this season.