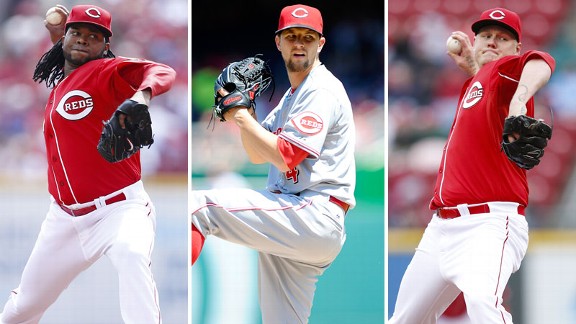 Getty Images
The Mets face (l to r) Johnny Cueto, Mike Leake and Mat Latos during a three-game series at Citi Field.
METS (17-24, fourth place/NL East) vs. CINCINNATI REDS (26-18, second place/NL Central)
Monday: RHP Shaun Marcum (0-4, 6.75) vs. RHP Johnny Cueto (1-0, 2.60), 7:10 p.m. ET
Tuesday: LHP Jonathon Niese (3-4, 5.40) vs. RHP Mike Leake (3-2, 3.72), 7:10 p.m. ET
Wednesday: RHP Matt Harvey (5-0, 1.55) vs. RHP Mat Latos (4-0, 2.91), 1:10 p.m. ET
Reds short hops
• Right-hander Johnny Cueto will make his first start since April 13, after which he landed on the disabled list with a strained right lat muscle. He also experienced an oblique issued while on the DL. Cueto tossed 58 pitches over five scoreless innings for Double-A Dayton on Tuesday, then threw an additional 23 pitches in the bullpen. Rookie Tony Cingrani (2-0, 3.27 ERA in six starts) was dispatched to Triple-A Louisville.
• Catcher Ryan Hanigan was hitting .079 with no extra-base hits through 12 starts in April before landing on the disabled list with a sore right thumb and strained left oblique that diminished his production. Since returning May 10, Hanigan has hit .300 (6-for-20) with a homer, three RBIs and three walks in seven games (six starts). His homer Saturday was his first long ball since July 6, 2012.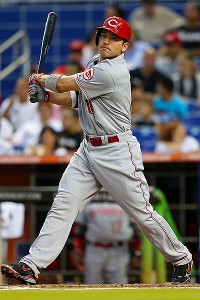 Mike Ehrmann/Getty Images
Former NL MVP Joey Votto's home run stroke has returned.
• First baseman Joey Votto reached base in eight straight plate appearances before the streak ended Sunday. He has an eight-game hitting streak during which he is hitting .515. Votto has 12 multi-hit games in his past 19.
Votto, who went homerless in 30 games between the regular season and postseason last year after returning Sept. 5 from knee surgery, has rediscovered his power after a slow April. He has six homers, including long balls Friday and Saturday at Philly. He reached base a career-high six times Saturday.
Votto (.473) and teammate Shin-Soo Choo (.456) rank first and second in the majors in on-base percentage.
• Choo, a 30-year-old South Korea native represented by Scott Boras, plays center field and bats leadoff with the Reds after previously playing right field with the Cleveland Indians. He is a free agent after the season and likely will draw interest from the Mets. Choo was acquired by Cincinnati on Dec. 11 in a three-team deal. The Reds are only responsible for $3.5 million of his $7.375 million salary this season.
• Three-time Gold Glove winner Brandon Phillips ranks second in the NL with 36 RBIs, one behind leader Troy Tulowitzki. The cleanup hitter benefits from Choo and Votto hitting ahead of him. Phillips has 220 doubles with Cincinnati, tied with Joe Morgan for the franchise record by a second baseman.
• Third baseman Todd Frazier, a Rutgers prospect from Toms River, N.J., snapped a career-high 0-for-19 skid Saturday. He then went 2-for-4 Sunday at Philly. Frazier has pronounced home-road splits: He is hitting .293 with six homers and 19 RBIs in Cincy and .164 with no homers and eight RBIs on the road.
• The Reds on Sunday suffered only their second loss in 18 starts by left fielder Xavier Paul.
• Outfielder Donald Lutz is regarded as the first German player in MLB. While children of American servicemen have been born in Germany and reached MLB, Lutz actually was born in the U.S. but moved with his German mother back to her native country at eight months old after his parents divorced.
• Flame-throwing closer Aroldis Chapman has suffered consecutive blown saves after converting his first eight opportunities of the season. The second setback came Sunday, when Freddy Galvis and Erik Kratz homered against Chapman for a 3-2 walk-off win by the Phillies at Citizens Bank Park.
• Right fielder Jay Bruce has a 10-game hitting streak, during which he has produced a .390 average (16-for-41) with four homers and 12 RBIs. Bruce had 40 strikeouts and one homer in 115 April at-bats. During the height of his struggles, Bruce had a Twitter rant during which he wrote to critical fans (via blogredmachine.com):
I appreciate all the tweets, good and bad, actually. You guys are what drive the game. I'm obviously not hitting as well as I'd like to, yet….I actually feel sorry for the people on here who feel that it's necessary to try and put me down on twitter. It really just explains…Further who you are, and there are obviously things in your life that you're unhappy about and you take it out on me via twitter…I suggest you look into talking with a life coach or something to help you get over whatever you have going on in your life. There is obviously a….lack of something going on, and I hope you guys get it straightened out, because you all sound like idiots Everyone have a good night. Haha.
• Shortstop Zack Cozart was scratched Sunday after becoming sick.
• Left fielder Chris Heisey has been on the DL since April 29 with a strained right hamstring. He tweaked the muscle in a rehab game last Monday.
• Mat Latos nearly was 5-0 heading into a Wednesday matchup with 5-0 Matt Harvey. In Latos' last start, he gave up a ninth-inning triple at Miami and departed with a 2-1 lead. Then Chapman gave up a game-tying triple. Cincinnati won in extra innings.