WHAT IT MEANS: Matt Harvey, who once every five days gives Mets fans a reason to cheer, is not invincible. He remains unbeaten, though.
Ike Davis, meanwhile, continues to draw the ire of Mets fans.
Rick Ankiel's third extra-base hit of the game -- a run-scoring triple in the seventh -- knocked out Mat Latos, pulled the Mets even at 4 and got Harvey off the hook for his first loss since last Sept. 12.
The Cincinnati Reds nonetheless ultimately completed their second straight three-game sweep at Citi Field with a 7-4 win on Wednesday afternoon.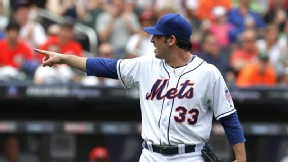 Seth Wenig/Associated Press
Matt Harvey ended up with a no-decision, not his first 2013 loss.
Bobby Parnell, who had not allowed a run in May while posting three wins and four saves, surrendered three ninth-inning runs.
With runners on the corners and one out, Brandon Phillips sent a go-ahead RBI double down the first-base. Davis let the ball go by, thinking it was foul, but first-base ump Phil Cuzzi disagreed as Cincinnati took a 5-4 lead. (Davis should have just fielded the ball and let Cuzzi make the call. He would not have had a play at the plate, but would have gotten an out at first.) Todd Frazier followed with a two-run single.
It was Davis' second questionable play at first base in the series. He also had a crushing obstruction call against him in the series opener when he watched a ball behind him.
The Mets (17-27) fell 10 games under .500 this early in a season for the first time since they were 16-26 on May 19, 2001.
Harvey was charged with four runs and nine hits -- both season highs -- in 6 1/3 innings. His ERA rose to 1.93, although he remained 5-0. Harvey threw 116 pitches, the second-highest total of his career.
He next pitches with an extra day of rest Tuesday at Citi Field against the Yankees, likely against Hiroki Kuroda.
Harvey surrendered a two-run homer to reigning NL Player of the Week Joey Votto in the third inning as Cincinnati took a 2-1 lead. The Mets managed to even the score in the fifth on Daniel Murphy's sacrifice fly, which plated Ruben Tejada, who had doubled.
With his pitch count rising in a tie game in the seventh, Harvey showed rare mortality. He allowed consecutive one-out singles to Zack Cozart, Votto and Phillips and departed with runners on the corners and the Mets trailing, 3-2. Scott Rice entered for his MLB-high 27th appearance and coaxed a tapper to first base from lefty-hitting Jay Bruce. Votto comfortably scored for the fourth run charged to Harvey and a 4-2 deficit.
Cozart went 4-for-4 against Harvey. No player had more than two hits in a game against Harvey in his previous 19 career major league starts.
Votto's homer was only the fourth long ball surrendered by Harvey in 10 starts this season. He joined Justin Morneau, Matt Kemp and Clint Barmes.
Murphy's single in the seventh against Latos scored Tejada and pulled the Mets within 4-3, setting up Ankiel's game-tying triple. It was Ankiel's fourth career three extra-base-hit game. The others came with the St. Louis Cardinals in 2007 and '09.
IKE WATCH: Davis went 0-for-2 with two walks and a strikeout and is now 1-for-his-last-38 (.026).
With Lucas Duda on second base, the score tied at 2 and two outs in the sixth, Davis flied out to the track in center field. He is now hitless in his last 25 at-bats with runners in scoring position.
In the eighth, Davis walked with one out to push the potential go-ahead run to second base.
WHAT'S NEXT: The Mets take a day off, then welcome the NL East-leading Atlanta Braves to Citi Field. Jeremy Hefner (0-5, 5.00 ERA) opposes right-hander Kris Medlen (1-5, 3.02) in Friday's 7:10 p.m. series opener.