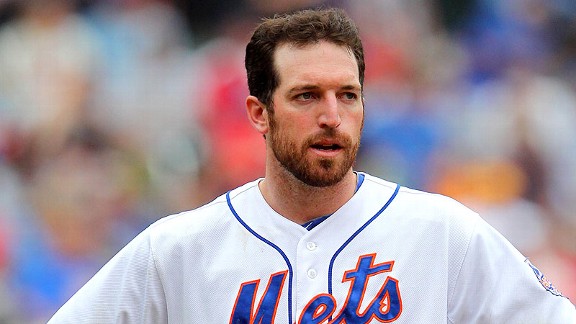 Brad Penner/USA TODAY Sports
Ike Davis' ninth-inning fielding decision put him in the spotlight postgame.
Ike Davis, who allowed Brandon Phillips' tiebreaking double to bounce past him at first base in the ninth inning Wednesday, calmly explained his reasoning after the 7-4 loss to the Cincinnati Reds:
Davis said, at least in his mind, he saw the one-out grounder with runners on the corners bounce foul the hop before it got to him. It was close, though. And he figured with the spin off a righty's bat, it would kick further into foul territory and be clearer for ump Phil Cuzzi if he let the ball go.
Obviously, that turned out to be the incorrect decision, because Cuzzi ruled it fair.
Davis said he subsequently watched replays multiple times and could not discern whether the ball was fair or foul.
He noted Shin-Soo Choo would have scored from third base with the go-ahead run anyway had he fielded the ball because it was hit too slowly for a play at the plate. For that same reason, Davis said a 3-6-3 double play that would have negated the run was impossible as well because of how slowly the ball was hit.
Davis suggested his only option would have been to get the force out at first base and then attempt to get Joey Votto headed for second. But Votto then would not have been forced. So Choo would have scored anyway, Davis noted.
"I couldn't get the guy at home," Davis said. "Choo runs really fast. And it was really slow to my backhand side. I was trying to get off the bag to get in the hole because it was a right-handed hitter. They usually don't hit it down the line like that. The second bounce ... I thought it bounced foul. In my head, I can't turn two. I can't catch it, touch the bag and then throw it to second and get the guy out, because then it's a tag play and the guy [Choo] scores anyway. So, in my head, when I thought I saw it bounce foul, I pulled my glove back, because then we'd be 0-2 on Phillips [if it were foul] and the run wouldn't score. That was my thought process on that. I still can't tell if it was foul or fair on replays. But I definitely did think it bounced foul right before I got it. He made the call fair.
"Everything that can go wrong for me right now is going wrong."