FIRST PITCH: Forget Ike Davis' struggles for a second. Forget even the payroll constraints, which is asking a lot to look past.
Here's one question that rarely gets asked: Where are the Moneyball players with the Mets?
And by that I mean: Why have there not been more productive free agents signed to those $2 million to $4 million contracts? Or how about some low-cost acquisitions via other routes that provide placeholders until a prospect is ready to assume the role?
Yes, departed Scott Hairston, Chris Capuano and Chris Young -- plus Scott Rice -- are a few examples of getting production beyond salary in their tenures with the Mets.
But there have been far more misses: Chin-lung Hu, Brad Emaus and Blaine Boyer in Year 1 of the current administration, all the way through to Collin Cowgill, Shaun Marcum and Scott Atchison (at least so far) this year.
It sure would be nice to have a few more Lyle Overbay types.
Finding those hidden gems was supposed to be a Mets front-office strength because of the executives' small-market pedigrees.
So if you're looking for reasons why the Mets today sit at 10 games under .500 this early in a season for the first time since 2001, blame the lack of spending. Blame the deliberate pace of building from within. But also blame the lack of identification of placeholders who can contribute at reasonable costs in the interim.
Anyway, the Mets are off today. Then there's the Atlanta Braves looming this weekend, with Jeremy Hefner (0-5, 5.00 ERA) opposing right-hander Kris Medlen (1-5, 3.02) in Friday's 7:10 p.m. opener.
It's still five days until Matt Harvey next pitches -- Tuesday against Hiroki Kuroda and the Yankees in Flushing in Game 2 of the Subway Series. The Mets are expected to miss CC Sabathia during the four-game set, which is split between Citi Field and the Bronx.
Thursday's news reports: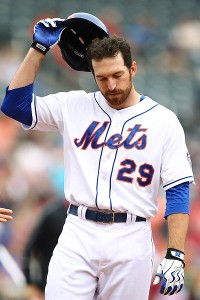 Al Bello/Getty Images
Ike Davis is expected to remain with the Mets on Friday.
• Davis is expected to remain with the Mets on Friday, but his days in the majors may be few beyond that without a serious uptick in performance. A scout breaks down Davis' flaws for ESPNNewYork.com here.
Anthony McCarron in the Daily News asserts Triple-A Las Vegas is the only sensible option. Writes McCarron:
Save Ike Davis, Mets brass. Send him down to Triple-A already.
Not because he's batting .147 and not because he's 1-for-his-last-38. Not because a guy who is supposed to be driving in runs has all of nine RBI this season. Not because he screwed up in the field Wednesday and appears to be taking his slump out to first base along with his mitt.
No, demote Davis to get him away from the microscope that is now following every hitch in his swing, every step of his latest disappointed shuffle back to the dugout following another lost at-bat. Take the pressure off him for a few weeks and give him some time to recharge in the heat of Las Vegas.
Writes Tyler Kepner in the Times:
It is little consolation to most Mets fans that Davis is well liked and accountable. Jason Bay was the same way. Production always matters most, but for now, character may be all that is sparing Davis from a demotion.
"It's not like my teammates are going to tell Sandy not to send me down," Davis said, referring to general manager Sandy Alderson. "It's just, if I was a bad teammate, a cancer in the clubhouse, it would be a lot easier. If I was selfish, and every time I got out I brought people down with a bad attitude and stuff like that, then I'm really affecting the team. I try not to let my struggles affect anyone else and, in fact, show more support than if I was going good."
Read more from columnist Ken Davidoff in the Post.
• Harvey was charged with four runs on a career-high nine hits in 6 1/3 innings but was spared his first 2013 loss when Rick Ankiel drove in the tying run with his third extra base hit of the game. Still, the Mets were swept Wednesday with a 7-4 loss to Cincinnati. The loss dropped them 10 games under .500 for the first time this season. Davis had a critical misplay at first base in the ninth, allowing Brandon Phillips' grounder down the line to go by him for a tiebreaking double.
Read game recaps in the Post, Daily News, Newsday, Star-Ledger, Record, Journal, Times and MLB.com.
• Read more on Harvey's outing in Newsday, the Daily News, Star-Ledger and MLB.com.
• After receiving a cortisone injection in his right shoulder and missing one start, Zack Wheeler returned to action Wednesday. He allowed a pair of solo homers and was charged with three runs in five innings, but earned the win in Las Vegas' 9-4 victory at Iowa. Noah Syndergaard, facing his former organization, was tagged with the loss as Dunedin beat St. Lucie, 5-3. Read the full minor league recap here.
• Read a profile of Double-A outfielder Cory Vaughn, son of former major leaguer Greg Vaughn and the reigning Eastern League Player of the Week, here.
• The Mets' attempt to have a run surrendered in Chicago by Harvey changed from earned to unearned was rejected by MLB.
• Cody Derespina in Newsday compares the Mets and Yankees lineups.
• One holdup to the construction of a stadium at Flushing Meadows Corona Park to house Major League Soccer's New York expansion team (which will be partly owned by the Yankees) is how much parking revenue the Mets would get at nearby Citi Field, the Times reports.
• After producing two doubles, a triple and two RBIs Wednesday, Ankiel is hitting .323 since joining the Mets, note Anthony DiComo and Chris Iseman at MLB.com.
• Harlem plans to rename a street in Willie Mays' honor. The question: Which one? Read more in the Daily News.
• From the bloggers … Faith and Fear in Flushing wonders if Ike has gone numb, and remembers a spectacular run of pitching by Dwight Gooden. … John Delcos at Mets Report writes that Harvey only reveals what little else the Mets have.
BIRTHDAYS: Infielder Ricky Gutierrez, who was acquired from the Cleveland Indians late in spring training in 2004 and released two months later, turns 43.
TWEET OF THE DAY:
#mets could learn something from John Maynard Keynes #spendmoney

— Andrew DeVivio (@andrewdevivio) May 23, 2013
YOU'RE UP: Has the front office done a good enough job identifying low-priced talent for the major league team as placeholders for developing prospects?