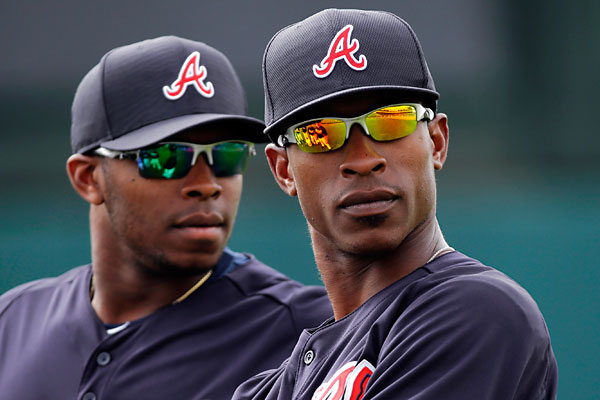 David J. Phillip/Associated Press
Justin and B.J. Upton came on board with the Braves last offseason after Atlanta built a strong nucleus from within.
FIRST PITCH: The Atlanta Braves won 14 straight division titles until finally getting unseated by the Mets in 2006.
Yet after only suffering through two losing seasons, Atlanta regenerated back into a contender. The Braves posted 86 wins in 2009, then 91, 89 and 94.
How did it happen so rapidly?
Primarily good drafting, and supplemented by trades that relied on the farm system to pull off the deals. There was minimal free-agency activity.
Among its current contributors:
Atlanta developed catchers Brian McCann (second round, 2002) and Evan Gattis (23rd round, 2010), first baseman Freddie Freeman (second round, 2007), shortstop Andrelton Simmons (second round, 2010), right fielder Jason Heyward (first round, 2007), starting pitchers Kris Medlen (10th round, 2006), Mike Minor (first round, 2009) and Julio Teheran (signed at age 16 out of Colombia), and closer Craig Kimbrel (third round, 2008).
Starting pitchers Tim Hudson and Paul Maholm, second baseman Dan Uggla, third baseman Juan Francisco and left fielder Justin Upton were acquired via trades, while center fielder B.J. Upton came as a free agent.
Maybe that's instructive as the Mets head toward their fifth straight losing season.
Read the Mets-Braves series preview here.
Friday's news reports: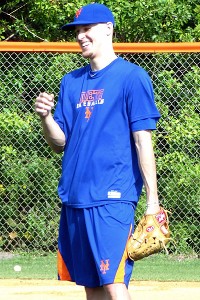 Adam Rubin
Zack Wheeler should be a Met in mid-June.
• Zack Wheeler will make two to three more starts for Triple-A Las Vegas before being promoted to the majors, Mike Puma reports in the Post. Or, in other words, he likely will be promoted right after the projected Super Two cutoff so he is not eligible for an extra year of arbitration. (The Mets do not publicly acknowledge that is central to their thinking.)
Wheeler, after receiving a cortisone injection in Manhattan and missing a start with Triple-A Las Vegas, reentered the 51s' rotation Wednesday at Iowa. He allowed three runs, including a pair of solo homers, in five innings.
Wheeler's impending arrival should mean Jeremy Hefner's turns in the rotation appear numbered.
Hefner (0-5, 5.00 ERA) opposes the right-hander Medlen (1-5, 3.02) in today's 7:10 p.m. series opener. The Mets are 0-9 in the game following a Matt Harvey start this season.
Read more on Wheeler in the Daily News.
• SNY ratings are way down for Mets games this season. Writes Neil Best in Newsday:
Mets games on SNY are averaging 1.84 percent of homes in 2013, on pace for the lowest such figure in the network's eight-year history, and down 21.7 percent from this point last year. Last season's final SNY number was 2.25, the network's second-lowest ever, slightly surpassing its all-time low in . . . 2011.
Not much to analyze here. The Mets are awful, except when Matt Harvey pitches. (Yup, there are ratings bumps whenever he is on the mound.)
• Who plays first base if Ike Davis is demoted in the next few days? Terry Collins says he is undecided. The options are to move Lucas Duda or Daniel Murphy there, use Justin Turner or promote Josh Satin (not on 40-man roster) or Zach Lutz.
First base is Duda's natural position, but a temporary shift might complicate his return to the outfield once Davis returned. (Then again, it might give the Mets a look at life after Davis, should they choose to part ways with him during next offseason and open 2014 with Duda at first base.)
"You can put Murphy over there at first and let [Jordany] Valdespin have a chance at second," Collins told the Post. "But I don't have any idea yet. You can put Duda over there, but if that's the case who plays left field? You can put Turner at first and see how he does, but until [Davis' situation] is decided, I really haven't gotten anything etched in stone yet."
Columnist Joel Sherman in the Post believes Davis should temporarily relocate to the minors. He notes catcher Jesus Montero was just dispatched to Triple-A with the Seattle Mariners with only nine RBIs, the same total as Davis, as well as a .208 average. Writes Sherman: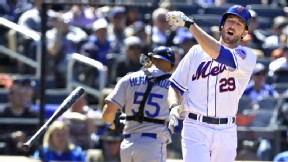 Seth Wenig/Associated Press
Ike Davis needs a productive weekend to stave off a demotion.
At this point Davis probably is too open to new advice, overloaded with information, being killed by attempts at kindness. He looks mentally fried, beaten down by the debilitating brew of failure, daily interrogations on that failure and recognition there simply is no quick fix to a .147 batting average and .481 OPS -- both major league lows among 169 qualifiers.
So for his good and that of a team consumed by his daily travails, Davis should be sent to Triple-A. Not for punishment, but to try to recalibrate his swing and resuscitate his confidence. After all -- besides Matt Harvey's starts -- Davis' at-bats have become the must-watch event around the Mets, just for all the wrong reasons. Let's see what horrible thing Davis can do now.
Writes columnist Bill Madden in the Daily News:
It is a bit mystifying as to why Sandy Alderson is taking so long to do what he and everyone else -- owners, coaching staff, players and fans around the Mets -- know he has to do: get Ike Davis out of here and into the rarefied air of Las Vegas, where he can hopefully clear his head and rediscover his batting stroke.
Maybe it's because the Mets' GM hasn't yet decided what to do about the other half of the equation, which would be, whom to replace Davis with?
John Buck, who hit .192 last season, can empathize with Davis' struggles. Buck sought out self-help writer Jim Fannin, author of "The Pebble in the Shoe," and used Fannin's visualization techniques last offseason, writes Kristie Ackert in the Daily News. Even before getting traded to the Mets, Buck pictured himself succeeding at Citi Field (because it was the site of this year's All-Star Game). "And after my agent called and said I was traded to the Mets, I called Jim and said 'Man that was weird,'" Buck told Ackert. "But it was a good move. It felt right."
Davis' teammates support him, write Marc Carig in Newsday and Brendan Prunty in the Star-Ledger.
The Amazing Kreskin has offered to help the Amazin's Davis, writes Jamie Uribarri in the Daily News.
• Jenrry Mejia allowed two runs in five innings in his second rehab start with St. Lucie. Mark Cohoon's complete game wasn't enough as Binghamton lost to New Britain, 1-0. Read the full minor league recap here.
• Teddy Cahill at MLB.com profiles Savannah catcher Kevin Plawecki.
• Hefner is the anti-Harvey. The Mets are 0-8 in his starts this season. Writes Jared Diamond in the Journal:
If Hefner continues to lose, he will soon find himself in ignominious company. Since 1919, there have been only 21 instances of a team losing a pitcher's first 10 starts of a season. Matt Beech holds this dubious record, with the Philadelphia Phillies losing in his first 14 outings in 1997. In 1985, the Pittsburgh Pirates went 4-21 when Jose DeLeon pitched -- the worst team record for any pitcher who made at least 25 starts in a season since 1919.
For Hefner to threaten those marks, the Mets would need to lose the rest of his starts for about the next month.
"Let's hope it doesn't come to that," Hefner said.
Read more on Hefner in the Record.
• Benjamin Hoffman in the Times suggests Hefner and the Yankees' Vernon Wells symbolize their teams' seasons.
• From the bloggers … John Delcos at Mets Report wonders where the accountability is with the Mets. … Rising Apple discusses whether Murphy is an All-Star candidate. … Mark Berman at Blogging Mets wonders if the Mets are as bad as we expected, or if they are somehow even worse.
BIRTHDAYS: South Korean right-hander Jae Weong Seo turns 36. … Angels GM Jerry Dipoto, a product of Toms River, N.J., who pitched for the Mets in 1995 and '96, is 45. … Left-hander Justin Hampson, currently pitching at Las Vegas, turns 33.
TWEET OF THE DAY:
the 3 #Mets starters that #Braves will face are a combined 2-15 and have ERAs of 5.00, 6.40 and 6.59.

— David O'Brien (@ajcbraves) May 24, 2013
YOU'RE UP: How should the Mets fill first base if Ike Davis is demoted? The options: Lucas Duda, Daniel Murphy, Justin Turner, Josh Satin and Zach Lutz.