The Mets are expected to wait until after the Super 2 deadline to promote Zack Wheeler, so the pitching prospect is paid close to the major league minimum and not at an arbitration-influenced rate in 2016. So when is that?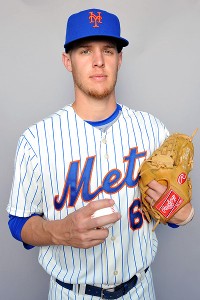 Steve Mitchell/USA TODAY Sports
Zack Wheeler's major league debut is coming soon.
The Mets' projection, at least as of a couple of weeks ago, seemed to be a little bit earlier than some other teams -- somewhere in the early June range, to no later than June 10.
A front-office executive from another team told ESPNNewYork.com that promoting a prospect after June 11 is "mostly safe" and after June 20 is "super safe."
An executive from a different organization estimated June 15 "and possibly a few days later."
Said a third team's exec: "Mid-late June is usually safe."
So figure about three more starts for Wheeler with Triple-A Las Vegas.
Wheeler is next scheduled to pitch Monday in Vegas against Salt Lake. Assuming he stays on turn with the 51s, that also would give him Pacific Coast League starts on June 1 and June 7. (There is a team off-day June 5.)
So you're potentially talking June 12 against the St. Louis Cardinals at the earliest for Wheeler -- and maybe a few days after that if the Mets want to be extra cautious with the Super 2 date. His debut come come during the following series, against the less-imposing Chicago Cubs at Citi Field.
If the Mets wait until June 17, they can start Wheeler on the road, as they purposely did with Matt Harvey to try to limit the spotlight and pressure. Of course, the Mets would then be in Atlanta -- which happens to be where Wheeler grew up, which might increase rather than diminish the pressure.