Terry Collins said he wanted to get Jeremy Hefner out on a high note, in position to win and without jeopardy of losing when the manager pulled the right-hander after six innings with a 3-2 lead and his pitch count at 94.
Hefner had surrendered a two-run homer to Freddie Freeman in the first inning, but had retired 16 of the final 18 batters he faced.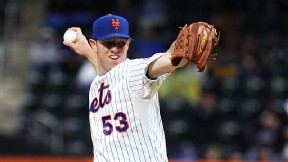 Mike Stobe/Getty Images
Jeremy Hefner suffered a hard-luck no-decision Friday night.He suffered a no-decision in the ultimately suspended game when LaTroy Hawkins allowed a homer to Dan Uggla, the leadoff batter in the seventh.
The Mets are 0-9 the game after Matt Harvey pitches this season and 0-8 in Hefner starts as the game resumes Saturday at 6:10 p.m., tied at 5.
If the Mets lose, Hefner would be within one loss of matching the longest streak of team losses in one pitcher's starts to open a season. The Mets lost Anthony Young's first 10 starts in 1993.
"When he came off after the sixth, he could have probably started the seventh inning, because he was feeling OK," Collins said. "But I was so excited that he pitched so well after he's been so down about not winning a game. I said, 'I'm not going to let this kid lose this game. I'm not going to do that.' He needs to move forward with a positive attitude that he pitched very, very well. Even though he did pitch well, had something happened the next inning, he goes home feeling bad about it. And I didn't want that to happen."