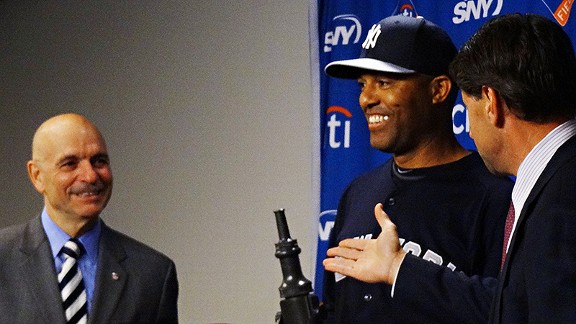 Adam Rubin
Fire commissioner Salvatore Cassano and Jeff Wilpon present Mariano Rivera with gifts before Tuesday's Subway Series game.
Mets chief operating officer Jeff Wilpon and FDNY commissioner Salvatore Cassano presented Mariano Rivera with a pair of fire-department-themed gifts before the legendary closer's final regular-season game at Citi Field. Then, Wilpon invited Rivera to throw out the ceremonial first pitch -- weather permitting -- on Tuesday night.
Rivera accepted.
Wilpon said his son chose No. 42 as a high school freshman upon making varsity because of his admiration for Rivera. Wilpon added: "It's a great honor to have you be here for the last time. I wish we could see you in the World Series, but I'm not sure that's going to happen this year."
Said Rivera: "You never know."
The Mets and FDNY gave Rivera a hose nozzle from a firetruck and call box as symbols of being the game's all-time greatest closer.
"Mariano has been a great friend to the FDNY for many, many years," Cassano said. "He's been at many of our widows and orphans events. And this is just a little token of our appreciation for your last visit at Citi Field and being such a good friend to all of us."