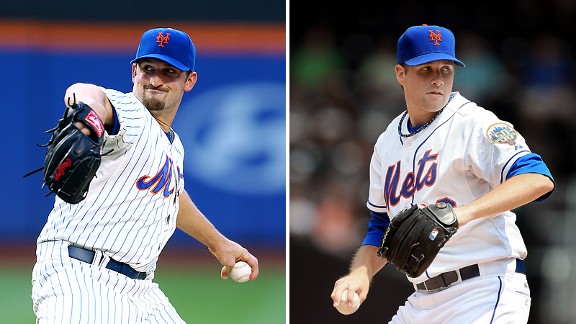 Getty Images
Jon Niese will miss a start in the rotation. Collin McHugh will fill in.
Jonathon Niese will miss his Saturday start against the Miami Marlins with shoulder tendinitis. Niese said the issue has bothered him for the past four starts, and more so affects his ability to recover for his next start than during a game.
Niese said he was unable to throw his typical bullpen session Wednesday at Yankee Stadium in preparation for Saturday.
He was examined Thursday morning at the Hospital for Special Surgery. An MRI revealed inflammation, but no structural damage, which relieved Niese.
"I just wasn't able to recover like I wanted to," Niese said. "I just felt it would be wise to get looked at. Obviously there's a little bit of inflammation in there. So we're going to skip a start and let it rest and go from there. It's just sore -- just really sore. I'm not able to recover as fast as I normally do. It's one of those things where I was able to pitch each start and I didn't feel anything. But it's usually the day after, and the day after that, where it was really sore, to where I didn't feel like I could effectively throw a bullpen. I'm just going to take a few days and let it cool down.
"I could probably make the next start if I wanted to, but it would be one of those things where I'd have to battle this the rest of the year, where I'd miss bullpens. I just want to get it out of the way and miss one start rather than let it linger and something worse happens. Obviously the MRI today put me at a lot more ease, being there's nothing wrong with it structurally. Hopefully rest will cure it. I'm almost positive that it will."
Niese suggested his altered mechanics early in the season, when he unintentionally allowed his arm slot to drop, may have contributed to the tendinitis.
"My arm wasn't used to those mechanics when I changed them," Niese said.
The southpaw said he will be idle for the next three days, then attempt to throw Tuesday in preparation for reentering the rotation next Friday against the Marlins at Citi Field.
Terry Collins said there was no consideration given to promoting Zack Wheeler, even though Saturday happens to be the next day Wheeler is scheduled to pitch for Las Vegas. The Mets are expected to wait until mid-June, after the Super 2 deadline, to promote the top prospect.
"No. There was no consideration. None," Collins said.
Why?
"Absolutely there's reasons why," Collins added. "He was not considered."