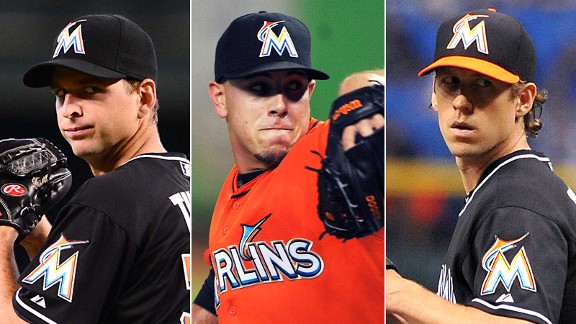 USA TODAY Sports/Getty Images
The Mets face (l to r) Jacob Turner, Jose Fernandez and Kevin Slowey this weekend in Miami.
METS (22-29, fourth place/NL East) vs. MIAMI MARLINS (13-41, fifth place/NL East)
Friday: RHP Shaun Marcum (0-5, 5.77) vs. RHP Jacob Turner (0-0, -.--), 7:10 p.m. ET
Saturday: RHP Collin McHugh (0-0, 12.00) vs. RHP Jose Fernandez (2-3, 3.78), 4:10 p.m. ET
Sunday: RHP Matt Harvey (5-0, 1.85) vs. RHP Kevin Slowey (1-5, 3.59), 1:10 p.m. ET
Marlins short hops
• The Marlins are 5-22 in May. A loss in the series opener against the Mets will match June 2011 (5-23) for the most defeats in a month in franchise history.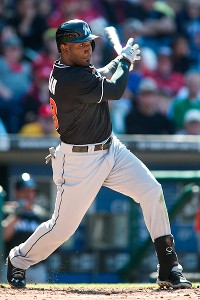 Howard Smith/USA TODAY Sports
Marcell Ozuna has a 15-game hitting streak.
• Giancarlo Stanton, who suffered a hamstring strain April 29 running to first base against the Mets, has developed sore knees while rehabbing, further delaying his return.
Rookie Marcell Ozuna, who has started every game in right field since Stanton landed on the disabled list, has hit safely in 15 straight games, the longest active streak in the majors. The streak is tied with Chuck Carr (1993) for second-longest by a rookie in Marlins history. The rookie record holder is Edgar Renteria, who hit safely in 22 straight games in 1996.
• Jacob Turner, who was acquired last July 23 in the Anibal Sanchez trade with the Detroit Tigers, makes his season debut with the Marlins after 10 starts with Triple-A New Orleans. The Marlins hoped Turner would make the rotation out of spring training, but that did not materialize after he produced a 9.69 ERA in Grapefruit League play.
Alex Sanabia landed on the disabled list with a groin injury, creating the rotation vacancy.
Nathan Eovaldi is nearing a return, too. He pitched in a rehab game Thursday against the St. Lucie Mets. (First baseman Casey Kotchman appeared in the same Florida State League game against the Mets as Eovaldi.)
• Rookie Jose Fernandez is coming off his shortest career outing. He allowed seven runs (four earned) in 3 1/3 innings against the Tampa Bay Rays, including a three-run homer to Kelly Johnson in a six-run second.
• Outfielder Chris Coghlan has started 12 straight games, primarily in left field, which had been Juan Pierre's domain. The 2009 NL Rookie of the Year, Coghlan is hitting .333 during that stretch and is batting leadoff. Pierre is hitting .222, with a .276 on-base percentage.
• Kevin Slowey was forced to leave a May 22 start after five innings with a left lat strain, but made his next start and remained in the rotation. The ex-Twin Slowey had tried to warm up for the sixth but was pulled from the game against the Philadelphia Phillies.
• Miami released ex-Met Jon Rauch on May 22 with a 7.56 ERA. Fellow ex-Met John Maine had been designated for assignment in April. Neither has resurfaced with another organization.
• Outfielder Logan Morrison (knee surgery in September) has started a rehab assignment, but is not due to be activated for the Mets series.
• Utilityman Ed Lucas made his major league debut Thursday at age 31. He replaced infielder Nick Green, who was designated for assignment.