MIAMI -- On the eve of the first anniversary of the first no-hitter in New York Mets history, Johan Santana is in Fort Myers, Fla. He is doing light exercises in his hometown as he recovers from a second surgery to repair a torn anterior capsule in his pitching shoulder. And he "definitely" has resolved to pitch again, according to his agent, Chris Leible.
Meanwhile, Terry Collins vividly recalls the agony he faced in allowing Santana to throw a career-high 134 pitches while the southpaw remained in the infancy of his return from the original shoulder procedure.
It is a question with no perfect answer: Was the organization's first no-hitter worth it if the workload contributed to a re-tear in Santana's shoulder.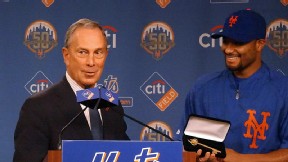 Adam Rubin
Mayor Mike Bloomberg presented Johan Santana with a key to the city after last year's no-hitter.
"I'll tell you, my stomach was upset," Collins says, recalling the June 1, 2012 game against the St. Louis Cardinals, during which Santana's pitch count began to mount. "You know how important he is to the organization. If you think about last year, it happened in June -- June 1 -- so you've got four months left of the season, plus another six months the following season at $25 million. Are you s------- me? I'm sacrificing $40 million bucks? Oh, I was ill. Sicker than hell. Sick to my stomach. I said, 'If you get hurt, just don't fall over on the mound like in the ninth inning.'"
Collins knew the organization had yet to experience a no-hitter despite all the famous pitchers who had passed through Flushing.
Yet, truth be told, up until a point of no return, Collins almost hoped Santana would give up a hit.
"Look at the pitching they've had here through the years -- besides The Franchise and Koosman and Gentry and Ryan and Doc," Collins says. "Everybody. There's been a ton of great pitching come through here. To have nobody have pitched a no-hitter, I mean, that's pretty amazing. All of those great arms. And the one guy you're worried about him because he just came off a surgery that nobody is every supposed to recover from? … He's out there after 130 pitches, still in the game. You're thinking, 'This isn't right.'
"I almost wanted to have the catcher tell the hitters what was coming," Collins continues, half-seriously. "When he went back out there in the seventh inning, I told him, 'You do know, the first hit you give up, your ass is out of the there.' He said, 'Yeah.' … In the eighth inning when he came in he said, 'Look, I'm OK.' I said, 'Yeah, I know, but you're still coming out as soon as you give up a hit.' I had somebody warming up for three innings in a row."
By the eighth inning, though, it was too late to turn back. And Collins resolved to see history through, for better or worse regarding Santana's long-term health. It was Santana's call.
When Matt Holliday hit a changeup off the end of his bat that had the possibility of dropping into center field to open the ninth inning, Collins said he very much wanted the ball caught.
"I wanted him to get it. It was too far gone," Collins says about the feat. "The excitement in the stands, I wanted those people to see this. I wanted them to see a no-hitter.
"I was very uncomfortable with the whole situation. Here this guy is, he's facing history. And I'm aware of that. And I'm all excited for him. I really am. I wanted this guy to get a no-hitter so bad. And, by the same token, I saw that pitch count keep rising with every foul ball. I keep going, 'S---.' He went out there in the eighth inning and I told [pitching coach] Danny [Warthen], 'I can't let this guy throw 150 pitches. I just can't do it.'
"The memory of the no-hitter was great, but I also know -- I'm very, very aware of -- the ramifications of what happened after the no-hitter.
"As he's talked about, everybody's talked about, it wasn't necessarily the no-hitter that caused the injury, but I know it didn't help."
Collins knew the onus was on him, unless by some chance someone above him intervened. Nobody every did.
"I didn't barf on anybody," Collins says regarding the stomach churning. "It was going to end up being my decision. Either that or when the phone rings behind me and [someone] says, 'Get his a-- out.' $40 million, big boy. His a-- is out."