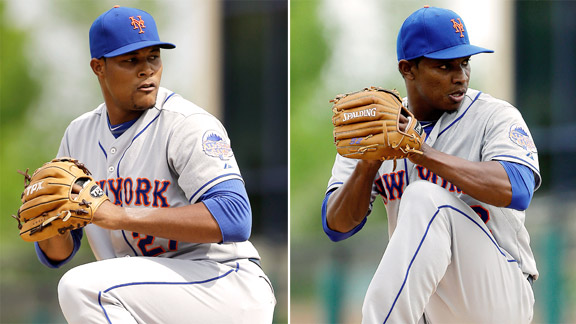 Carlos Osorio/Associated Press
Jeurys Familia and Jenrry Mejia have suffered setbacks while on the DL.
MIAMI -- A quartet of Mets pitchers on the disabled list have experienced setbacks that are preventing them from pitching on the mound, Terry Collins said. The newest developments involve right-handers Jeurys Familia and Jenrry Mejia, both of whom have needed to be backed off minor league rehab appearances.
Familia, who had made a pair of relief appearances with Class A St. Lucie, experienced a renewed issue with the biceps tendinitis that landed him on the disabled list May 12. Collins said of all the issues, he is most optimistic Familia can get back on a mound this weekend, and eventually move to Triple-A Las Vegas.
"After the other day, he came in and told them his forearm is pretty sore," Collins said. "So they have slowed him down. ... The next day he came in and felt a lot better. It could have been the old 'overdo it.' You feel good enough that you're going to really let it fly. And then, all of a sudden, you overdo it and then you're pretty sore the next day."
Mejia has spent the entire season on the DL because of a forearm issue. He had made a pair of rehab starts with the Florida State League club, logging five innings in the most recent outing, on March 23. But a flareup of the issue is now keeping him off the mound.
Meanwhile, former closer Frank Francisco continues to deal with elbow inflammation and is not throwing off a mound, Collins said. He is throwing on flat ground.
Scott Atchison has renewed finger numbness and is seeking a second opinion as to whether a bone spur in his right elbow needs to be surgically removed now.