MIAMI -- Why isn't Zack Wheeler pitching Saturday against the Miami Marlins in a spot start while Jonathon Niese misses one turn with shoulder tendinitis?
Essentially, team brass internally resolved, New York couldn't handle a spot start from Wheeler and return to Triple-A.
If the outing was too successful filling in for Niese, the pressure would have been overwhelming to keep Wheeler in the major league rotation. So the organization decided to bypass the potential agita and instead give Collin McHugh the assignment.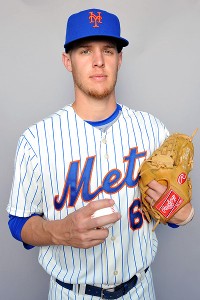 Steve Mitchell/USA TODAY Sports
Zack Wheeler
For the record: Promoting Wheeler for one day and returning him to Las Vegas afterward would not have materially affected his Super 2 status. He only would have picked up one day of MLB service time -- hardly earthshattering.
Overall, though, given the Mets have waited this long to promote Wheeler, they have resolved to wait until after the imprecise Super 2 deadline to have him stay in the majors.
The delay will stall his arbitration eligibility by a year -- from after the 2015 season until after the 2016 season. It does not affect his free-agency eligibility, which will be after the 2019 season either way, assuming he remains in the majors for the duration of his career.
Mets insiders insist they have not chosen a precise date for Wheeler's major league debut.
The day game of a June 18 split doubleheader in Atlanta is one possibility, even though Wheeler grew up in the area and might feel some extra pressure. The preceding series at Citi Field against the Chicago Cubs is another option.
As for why the Mets did not have Wheeler make one start now against the woeful Marlins, then return him to Las Vegas, Terry Collins said:
"I sent Ramon Martinez to the major leagues one year. He pitched a one-hitter. He was back [to the minors] the next day. That stuff happens. They need him for one start. You go up for one start.
"Had Zack Wheeler been selected to make this one start and pitched a one-hitter, he'd have been back [at Las Vegas] the next day. That would have led you guys to jump off a cliff.
"I sent Rick Reed to the big leagues one time to pitch against the New York Mets. He pitched very, very good and he came back [down] the next day. I know one thing: In our particular situation, we want to try to avoid that. If Zack comes, we hope that he stays here for the rest of his time."
McHugh worked as a starter at Las Vegas, but has worked sparingly in relief since joining the Mets in St. Louis. He logged two innings on May 18 and one inning on May 21 in his two major league appearances this season. He did not believe he would be on a tight pitch limit because of the recent inactivity.
"I think we've done a pretty good job of trying to stay sharp, throwing bullpens when we needed to, have guys stand in when we needed to," McHugh said.