MIAMI -- Not even Matt Harvey could salvage a pitiful weekend at Marlins Park.
Harvey surrendered a career-high 10 hits and the Mets ultimately were swept by the National League's worst team with an 11-6 loss Sunday. So much for that Subway Series euphoria.
Harvey, for the record, received a no-decision and remained 5-0. By going unbeaten in his first 12 starts of a season, he broke the franchise record, which he previously shared with Armando Reynoso (1997).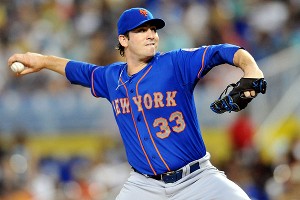 Steve Mitchell/Getty Images
Matt Harvey allowed a career-high 10 hits as the Mets were swept by lowly Miami.
The Mets had rallied for a 6-4 lead to put Harvey in position to win when he departed after five innings with his pitch count at 100. But Scott Rice walked three straight batters with one out in the seventh. All three scored -- on a two-run double by Marcell Ozuna, then a tiebreaking groundout by Chris Coghlan.
Ozuna, who produced four RBIs, twice benefited from less-than-optimal outfield play. Lucas Duda froze on Ozuna's two-run double in the seventh. More egregiously, center fielder Rick Ankiel misread Ozuna's shot into a two-run triple during a three-run first inning against Harvey.
Now, exactly one-third of the way through the season, the Mets own a 22-32 record. They trail the season series, 6-3, and have lost a pair of series to the Marlins. Those are the only two series Miami has won in 2013. The Marlins had entered the weekend on a nine-game losing streak and had been outscored by their opponents by an MLB-worst 90 runs.
Not Harvey's day: The three first-inning runs surrendered by Harvey matched the most he had allowed in an inning in his career, although he didn't have much luck -- or help from his fielders.
Juan Pierre had a perfectly placed leadoff bunt. Ed Lucas, the 31-year-old rookie who finished 4-for-4, followed with a seeing-eye single through the right side of the infield. Ankiel misread Ozuna's shot. Then Coghlan dropped an RBI double over shortstop Omar Quintanilla's head and into shallow left field to cap the inning as Miami took a 3-0 lead.
The four runs surrendered by Harvey matched his season high.
I charting: Ike Davis produced a season-high-matching three RBIs, including a two-run homer in the fourth against starter Kevin Slowey that evened the score at 4. Davis last had gone deep April 25, against the Los Angeles Dodgers' Brandon League. Duda and Quintanilla earlier produced solo homers.
What's next: The Mets spend an off-day in D.C., although golfing is expected to be disrupted by a rainy forecast. On Tuesday, Jeremy Hefner (1-5, 4.74 ERA) opposes right-hander Jordan Zimmermann (8-3, 2.37) at 7:05 p.m. at Nationals Park.