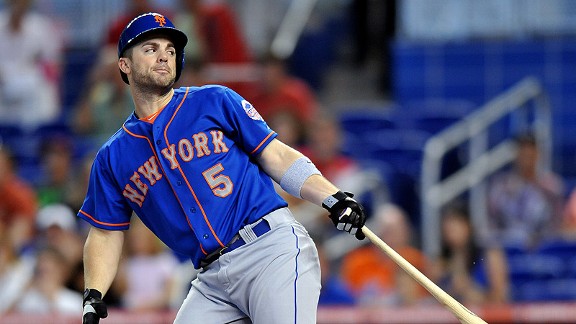 Steve Mitchell/Getty Images
David Wright says the Mets are the ones teams may look forward to facing.PORT ST. LUCIE, Fla.
FIRST PITCH: Aren't teams supposed to take advantage of playing the lowly Marlins? Well, after getting swept by Miami during the weekend, David Wright suggested some MLB teams might feel the same way about the Mets.
"We don't have much room to talk ourselves," Wright told reporters after the Mets lost on Matt Harvey Day, 11-6 on Sunday at Marlins Park. "Talking about, 'We should beat this team, we should beat that team.' There's probably a lot of teams saying that about us right now.
"They were struggling just as bad, if not worse, offensively than we were. And they came in and just beat us up pretty good. All in all, not a good series."
The Mets now spend an off-day in D.C. before opening a three-game series against the Washington Nationals on Tuesday at 7:05 p.m. Jeremy Hefner (1-5, 4.74 ERA) opposes right-hander Jordan Zimmermann (8-3, 2.37) in the series opener.
Monday's news reports:
• Harvey surrendered four runs on a career-high 10 hits in five innings, but actually departed with a 6-4 lead. He received a no-decision when Scott Rice walked three batters in the seventh and all three scored. Ike Davis had produced a game-tying two-run homer in the fourth. Read game recaps in the Post, Daily News, Star-Ledger, Times, Record, Newsday, Journal, CBSSports.com and MLB.com.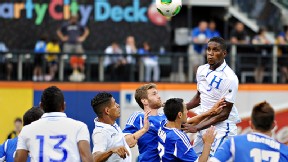 Stan Honda/AFP/Getty Images
Israel beat Honduras, 2-0, at Citi Field on Sunday.
• Read more on Harvey's start in Newsday.
• Davis is 5-for-15 with a homer and five RBIs over his past four games. "I've been hitting the ball decent the last four or five games," Davis said afterward. "It was nice to see one go over the fence. But I feel like, obviously, I'm having better at-bats. I'm putting the ball in play more." Read more in the Star-Ledger, Post and Newsday.
• Zack Wheeler could make his major league debut as soon as a June 14-16 series against the Cubs at Citi Field. Read more in the Post and Daily News.
• Travis d'Arnaud is due to have his fractured left foot examined in New York today. The hope is that he can shed a protective boot and begin weight-bearing activity.
• Israel beat Honduras, 2-0, in a soccer match Sunday at Citi Field. The crowd was announced at 26,170.
• From the bloggers … Blogging Mets proposes a solution to end Super 2 and free agency manipulation. … Rising Apple did not care for Terry Collins leaving in Rice to face Marcell Ozuna on Sunday.
BIRTHDAYS: Las Vegas infielder Zach Lutz, currently on the disabled list with an oblique injury, turns 27. … Outfielder Carl Everett is 42. … Catcher Barry Lyons turns 53.
TWEET OF THE DAY:
Israel-Honduras soccer match at Citi. Either team could have beaten the Marlins once this weekend. @AdamRubinESPN pic.twitter.com/FEPR4VscuF

— Adam Rosen (@ARos13_) June 3, 2013
YOU'RE UP: Which team is the real Mets -- the one that swept the Yankees, or got swept by the Marlins?