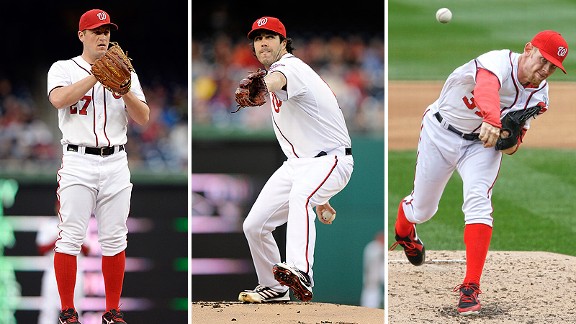 Getty Images
The Mets face (left to right) Jordan Zimmermann, Dan Haren and -- at least officially, for now -- Stephen Strasburg in D.C. this week.METS (22-32, fourth place/NL East) vs. WASHINGTON NATIONALS (28-29, second place/NL East)
Tuesday: RHP Jeremy Hefner (1-5, 4.74) vs. RHP Jordan Zimmermann (8-3, 2.37), 7:05 p.m. ET
Wednesday:RHP Dillon Gee (3-6, 5.68) vs. RHP Dan Haren (4-6, 5.09), 7:05 p.m. ET
Thursday: RHP Shaun Marcum (0-6, 5.71) vs. RHP Stephen Strasburg (3-5, 2.54), 7:05 p.m. ET
Nationals short hops
• Stephen Strasburg departed Friday's game after two innings with a Grade 1 strain of a lat muscle -- the least-severe level. He has not yet been placed on the disabled list, and is not officially ruled out of Thursday's Mets start, even if it seems improbable. Because of Monday's team off day, Strasburg's outing can be pushed back without disrupting the rotation. So left-hander Gio Gonzalez (3-3, 3.64 ERA) could step in on regular rest in the series finale for the banged-up Nats. Starter Ross Detwiler has been on the disabled list since May 27 with an oblique strain.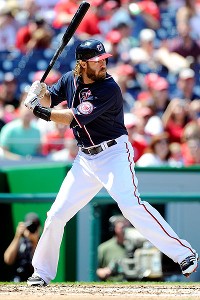 G Fiume/Getty Images
Jayson Werth is due to be activated from the disabled list for the series.
• Phenom Bryce Harper landed on the DL on Saturday with left knee bursitis, which he suffered when he aggressively slammed into the right-field wall May 13 at Dodger Stadium. Harper already had been banged up from an encounter with the outfield wall in Atlanta two weeks earlier.
• After a five-game rehab assignment, Jayson Werth is scheduled to return from the DL on Tuesday to face the Mets. Werth missed 28 games with a right hamstring injury. He hit two three-run homers in his final tune-up with Class A Potomac. With Werth and Harper sidelined, Washington rotated Roger Bernadina, Steve Lombardozzi and Tyler Moore in the corner outfield positions.
• Lombardozzi also has handled significant second-base duty since Danny Espinosa is banged up but active. Espinosa (.158, 3 HRs) has dealt with a right wrist injury all season but has started five straight games at the position. Top prospect Anthony Rendon, a natural third baseman, was promoted to Triple-A Syracuse over the weekend. Rendon has moved full time to second base with the promotion, signaling he is the heir apparent at the position.
• Since returning from the DL on May 3, third baseman Ryan Zimmerman is hitting .308 with five homers and 17 RBIs in 28 games. He had a three-homer game last Wednesday against the Orioles -- becoming the third National to accomplish that feat. Alfonso Soriano did it in 2006 and Adam Dunn in 2010. However, Zimmerman's 10 errors lead major league third baseman, one ahead of Pittsburgh's Pedro Alvarez.
• Right-hander Jordan Zimmermann has not lost at Nationals Park since May 17, 2012. He has won his last eight starts in D.C. Zimmermann, who has tossed three complete games this season, did have a hiccup in his last start. He allowed season highs with seven runs and 10 hits in six innings at Baltimore as his ERA rose from 1.71 to 2.37.
• No. 1 catcher Wilson Ramos has missed 17 games with a left hamstring injury. Kurt Suzuki has been filling in.
• The Nats have matched a season low at one game under .500. They have an MLB-worst .287 team on-base percentage. The Mets rank fourth-worst at .295.