WASHINGTON -- The Mets are eyeing next weekend's series against the Chicago Cubs at Citi Field, and specifically next Friday's series opener, for Zack Wheeler to make his major league debut, a baseball source told ESPNNewYork.com.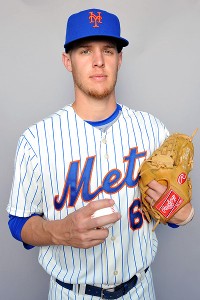 Steve Mitchell/USA TODAY Sports
Zack Wheeler is expected to make his major league debut against the Chicago Cubs.
The date is not set in stone because of factors such as potential rainouts in the interim, but is tentatively set.
Wheeler is due to make what his likely his final start with Triple-A Las Vegas tonight at Tacoma.
Jay Horwitz, the team's vice president for media relations, flew to the West Coast during Monday's Mets off-day to prep Wheeler for dealing with the New York media.
Wheeler, 23, is 4-1 with a 3.86 ERA in 11 Pacific Coast League starts.
The Mets have been waiting until after the "Super 2" deadline to promote Wheeler. By ensuring he is not in the first portion of MLB prospects called up this season, the Mets can delay Wheeler's arbitration eligibility by a year, until after the 2016 season. Either way at this point, Wheeler would not be eligible for free agency until after the '19 season.
Wheeler's promotion would come amid solid recent performances by Dillon Gee and Jeremy Hefner, which complicates the decision. Still, the Mets might not immediately need to bounce anyone from the rotation because of a doubleheader on June 18 in Atlanta, which will create the need for an extra starter for one turn.