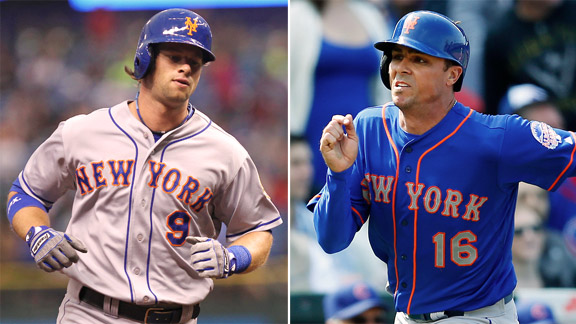 Icon SMI, Getty Images
Kirk Nieuwenhuis has been promoted, while Rick Ankiel's Mets career has ended.
NEW YORK -- After Rick Ankiel went hitless in four at-bats and struck out three times in Saturday's 20-inning game off the bench, upping his futility streak to 2-for-his-last-35, the Mets designated the outfielder for assignment and will promote Kirk Nieuwenhuis from Triple-A Las Vegas.
Nieuwenhuis has eight homers in 16 games with the 51s since May 22, although overall he is hitting only .232 with 40 strikeouts in 142 at-bats in Triple-A. Terry Collins recently was told by Wally Backman that Nieuwenhuis' at-bats had improved, and he's only subject to maybe one plate appearance a game with lapses.
Nieuwenhuis made the Opening Day roster, but was demoted April 23, when Juan Lagares joined the major league club. Now, they can form a lefty-righty hitting tandem in center field if Collins chooses.
Ankiel, picked up after being dumped by the Houston Astros, will finish his brief Mets career having hit .182 with 25 strikeouts in 66 at-bats. Overall, he has K'd 60 times in 128 major league at-bats this season.