NEW YORK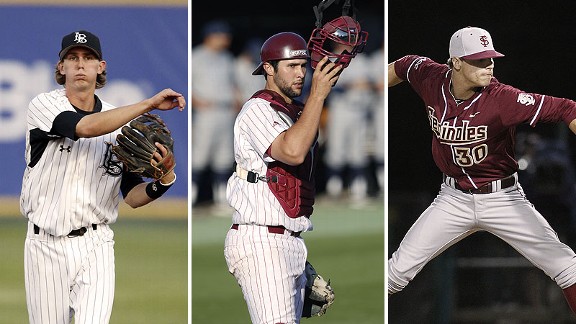 Associated Press/Getty Images
On Day 3 of the draft, the Mets' picks included (l to r) Long Beach State's Jeff McNeil, Loyola Marymount's Colton Plaia and Florida State's Robby Coles.FIRST PITCH: The day after their 20-inning debacle, the Mets try to rebound by sending Jonathon Niese to the mound at 1:10 p.m. today against Stony Brook University product Tom Koehler (0-4, 3.70 ERA).
Niese (3-5, 4.40) has not pitched in a game since May 27. He missed a rotation turn because of occasional "sharp pain" and catching in his left shoulder as he threw. He then had his planned return rained out Thursday in D.C.
Sunday's news reports:
• Matt Harvey left Saturday's game after taking the mound for the eighth inning with what he described as tightness in his lower back, near the right hip. Harvey maintained he intends to make his next start, which would be Thursday or Friday at Citi Field. He suggested the issue was remedied when the troublesome area was "popped back into place" during a chiropractic adjustment in the trainer's room. He had similar issues on occasion while at UNC.
Writes columnist Bob Klapisch in the Record:
What's unforgivable, however, is the way Harvey and the Mets handled the brush with injury, brief as it was. The 24-year-old ace admitted he tweaked the hip in the top of the seventh inning. Harvey's first mistake was failing to tell anyone he was no longer at 100 percent.
Mistake No. 2 occurred in the bottom of the seventh, after Harvey singled and reached first base. Finally he told first base coach Tom Goodwin something was wrong with his lower back -- yet, no one thought to intervene. Harvey should've never set foot on the mound after that. But it wasn't until he took his warm-ups in the eighth that common sense prevailed and he was removed.
Read columnist Steve Serby's opinion in the Post.
Before departing, Harvey tied Clayton Kershaw at seven for the most starts this season going seven-plus innings and allowing one or fewer runs, according to ESPN Stats & Information. Harvey has one win and eight no-decisions since April 19.
Read more in the Times, Post, Daily News, Star-Ledger, Record, Newsday and MLB.com.
• Rick Ankiel's Mets career lasted 27 days, during which he hit .182 with 25 strikeouts in 66 at-bats. The final straw: an 0-for-4, three-strikeout performance off the bench in Saturday's loss. Kirk Nieuwenhuis will join the Mets on Sunday from Triple-A Las Vegas. Niewenhuis had eight homers in his last 16 games with the 51s. Ankiel was designated for assignment.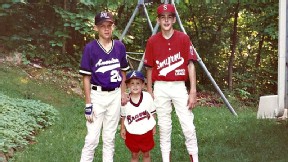 Courtesy of Wheeler family
A young Zack Wheeler (middle) grew up a Braves fan. He may face them in his major league debut.
• The Mets reversed course and will delay Zack Wheeler's promotion, which had been tentatively planned for this upcoming Friday against the Chicago Cubs at Citi Field. The expectation now is that Wheeler makes his major league debut at Turner Field during a June 17-20 series against the Atlanta Braves, unless Harvey's issue requires Wheeler sooner. The Mets will need an extra starter during that series anyway because the teams play five games over four days. Wheeler would be starting at a stadium 30 miles east of where he grew up, in Dallas, Ga. Wheeler should make one more Triple-A start, likely Wednesday in Las Vegas.
"I knew what I was doing wrong, but I couldn't make the adjustment, which stinks as a pitcher," Wheeler told Ken Davidoff in the Post about his most recent outing, when he allowed four runs in 4 2/3 innings Friday. "It happens. It's part of pitching. Learning experience."
Writes columnist David Lennon in Newsday:
What do the Mets have to lose? More games? They got that covered. If the front office believes Wheeler is capable of handling the mental leap, take the plunge, and he'll likely lead a parade of call-ups that should follow after the All-Star break. Harvey pitched through last season's second-half pratfall with blinders on. The Mets need Wheeler to do the same.
He won't be looked at as any kind of savior. The Mets took care of that by removing themselves from contention by Father's Day. All that will be asked of him is to take the baseball, throw strikes and get some people out. Use these next four months as a tune-up to prepare for 2014, which presumably will include those "meaningful games" Fred Wilpon talked about once upon a time.
Read more on Wheeler in the Daily News and Newsday.
• In what matched the fourth-longest game innings-wise in franchise history, the Mets lost to the Marlins, 2-1, in 20 innings Saturday. The Mets went a franchise-record 0-for-19 with runners in scoring position. They left 22 men on base, trailing only a 1974 game against the St. Louis Cardinals when they stranded 25 for the franchise record.
The time of game: six hours, 25 minutes.
Shaun Marcum, after tossing seven scoreless relief innings, surrendered the game-deciding RBI single to Adeiny Hechavarria in the 20th.
Marcum unfairly dropped to 0-7 this season, with two of the losses coming as a reliever against the Marlins. Marcum's record matches the fourth worst to open a season in franchise history, trailing only Anthony Young (0-13 in 1993), Bob Miller (0-12, 1962) and John Franco (0-8, 1998) and matching Mike Pelfrey (0-7, 2007). Marcum's eight-inning relief appearance was the longest in the majors since Scott Sanderson also pitched eight innings for the Chicago Cubs in 1989, according to ESPN Stats & Information. Miller, with the 0-12, is the only pitcher to begin his Mets career with a worse record than Marcum.
Amazingly, Harvey and Jose Fernandez have now been the starters for both lengthy extra-inning games between the Mets and Marlins this season (also 15 innings on April 29, in Marcum's other relief loss). The only other time a pair of starting pitchers met twice in a season in games that went 15-plus innings: 1884, according to the Elias Sports Bureau. That matchup featured Jim Whitney of the Boston Beaneaters and Old Hoss Radbourn of the Providence Grays.
The only longer games in Mets history: 25 innings versus St. Louis on Sept. 11, 1974; 24 innings at Houston on April 15, 1968; and 23 innings versus San Francisco on May 31, 1964. The Mets also played a 20-inning game at St. Louis on April 17, 2010.
The Marlins are 7-3 against the Mets this season and 10-41 against the rest of MLB.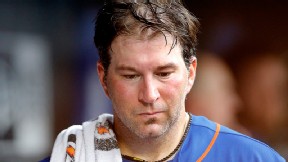 Paul J. Bereswill/Associated Press
Shaun Marcum excelled in eight innings of relief, but was tagged with the loss.
• Marcum had been scheduled to reenter the rotation Tuesday. But after logging 107 pitches in his first appearance in eight days with the relief effort, Marcum undoubtedly will wait until at least Thursday's series finale against the Cardinals to pitch again, which would be on standard rest. Because of Monday's off-day and two rainouts, Jeremy Hefner and Dillon Gee can handle the first two games of that series, both with extra rest anyway. Read more on Marcum in the Post and Star-Ledger.
• Veteran reliever David Aardsma joined the Mets on Saturday from Las Vegas and debuted with a scoreless 12th inning. Collin McHugh was optioned to the 51s, while Jeurys Familia was shifted to the 60-day DL to clear the 40-man roster spot.
The Mets have four players on the 60-day DL, where they currently do not count against the 40-man roster: Johan Santana, Frank Francisco, Jenrry Mejia and Familia. With Ankiel DFA'd postgame, the Mets now have 39 players counted toward the 40-man roster.
Familia underwent surgery last week to remove a bone spur and other loose objects from his pitching elbow.
Read more in the Daily News.
• MLB completed its draft Saturday with rounds 11 through 40. Of local note on the final day, the Mets selected left-handed pitcher Anthony Kay from Ward Melville High School on Long Island in the 29th round. That's the same Suffolk County school that produced the Mets' top pick in the 2009 draft, left-hander Steven Matz. See all 41 Mets picks at Baseball America.
• Landon Powell, who has tons of people rooting for him because of his traumatic family experience, has been released by the Mets from Las Vegas. Powell was the subject of a recent E:60 documentary after his infant daughter Izzy died on the eve of spring training. He was hitting .159 for Las Vegas, which also had homegrown catchers Francisco Pena, Juan Centeno and Kai Gronauer active. Powell indicated to 51s broadcaster Russ Langer that he had an offer to be a coach with a small college program near his Greenville, S.C., home, which he was leaning toward accepting.
Powell's release coincided with Andrew Brown (oblique) returning from the Las Vegas DL.
• Travis Taijeron (.303, 9 HR, 27 RBIs) earned a promotion from St. Lucie to Binghamton after B-Mets outfielder Cory Vaughn landed on the DL with a right elbow strain. Taijeron homered in his Double-A debut and Rafael Montero tossed seven scoreless innings as Binghamton beat Altoona, 9-3. Read the full minor league recap here.
• Ex-Met Oliver Perez has revived his career with the Seattle Mariners, writes David Waldstein in the Times.
• From the bloggers ... Faith and Fear soaked up all 20 innings in Promenade and lived to tell about it.
BIRTHDAYS: Short-lived Met Jason Anderson, who arrived from the Yankees in the July 16, 2003 trade for Armando Benitez, turns 34.
TWEET OF THE DAY:
Who is scheduled to pitch for the #Mets on Aug 10th in Arizona? Anyone have any idea?

— #ImWith28 (@TheGr8Achilles) June 8, 2013
YOU'RE UP: Are you relieved Kirk Nieuwenhuis is replacing Rick Ankiel? Or is your attitude more: What took so long?