NEW YORK -- Roster changed. Same stinkin' result.
In the first game since a shuffle that included Ike Davis' demotion, newly installed first baseman Daniel Murphy's error opened the doors for five unearned runs in the fifth inning and the Mets lost to the St. Louis Cardinals 9-2 on Tuesday night at Citi Field.
The Mets (23-36) dropped to a season-worst 13 games under .500. That is their largest hole this early in a season since they were 20 games under .500 on June 11, 1993, en route to a 103-loss season.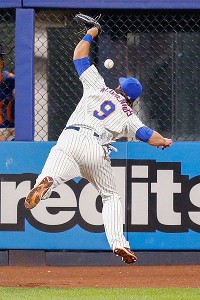 Anthony Gruppuso/USA TODAY Sports
Kirk Nieuwenhuis misplayed Yadier Molina's seventh-inning fly ball into a two-base error.
Murphy, who had borrowed a first baseman's glove from Justin Turner pregame, tried to field Jon Jay's grounder on the backhand to begin the fifth inning. The ball kicked off the glove, and Murphy's ensuing flip after regaining it errantly sailed over Jeremy Hefner's head as the pitcher covered first base.
By the time the five-run inning had ended, opposing pitcher Michael Wacha had an RBI groundout. David Wright was unable to cleanly field Yadier Molina's grounder, which meant Wright had to settle for a run-scoring groundout at first base rather than a potential inning-ending double play. And Allen Craig belted a three-run homer to give National League Central-leading St. Louis a 6-2 lead.
It has not been a good showing this year for Mets with borrowed gloves against St. Louis. On May 13 at Busch Stadium, now-departed Rick Ankiel had a critical drop in center field in his Mets debut while using Jonathon Niese's glove because Ankiel's had yet to arrive from Houston.
The Mets actually allowed seven straight unearned runs Tuesday.
Kirk Nieuwenhuis, who replaced Ankiel on the roster last weekend, dropped Molina's fly ball in right field for a two-base error in the seventh. Matt Holliday followed with an RBI single against reliever Greg Burke. Josh Edgin ultimately inherited the bases loaded with two outs from Burke in the southpaw's big league return and proceeded to force in a run by walking Jay.
The next issue: With all the dialogue about Davis' demotion, the Mets have another looming decision: How to clear a rotation spot after next week's promotion of Zack Wheeler to face the Atlanta Braves.
Hefner breezed into the fifth Tuesday, when things unraveled after Murphy's error.
Hefner's final line: 6 IP, 8 H, 6 R, 1 ER, 1 BB, 2 K, 1 HR.
Walk-a Wacha: Wacha, the St. Louis rookie phenom, earned his first major league win despite surrendering a solo homer to Omar Quintanilla and three walks in a two-run first by the Mets in which Wacha threw 37 pitches.
Wacha stranded the bases loaded in the first by coaxing an inning-ending groundout from Nieuwenhuis, then posted five scoreless frames. He departed with an 8-2 lead.
What's next: Dillon Gee (4-6, 5.20 ERA) opposes rookie right-hander Shelby Miller (7-3, 1.91) at 7:10 p.m. Wednesday.