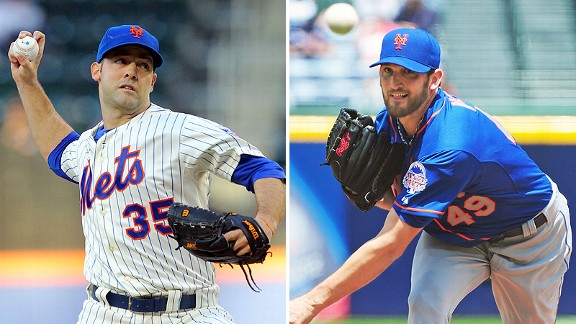 USA TODAY Sports/Getty Images
Tendinitis issues with Dillon Gee and Jon Niese are fueling the decision to temporarily use a six-man rotation once Zack Wheeler debuts next week.NEW YORK -- Terry Collins reiterated Thursday morning that the Mets will use a six-man rotation for at least a little while once Zack Wheeler debuts Tuesday in Atlanta. Aside from the tough decision over whom to bounce from the rotation, Collins indicated the motivation is to get extra rest for some pitchers. Both Dillon Gee (elbow) and Jonathon Niese (shoulder) have experienced tendinitis.
"That's why we may go with a six-man rotation for just short period of time, so we make sure all of these guys have some appropriate rest as we go into the hot months," Collins said.
In Gee's case, he has produced three straight quality outings despite the elbow issue, posting a 1.29 ERA and averaging seven innings a start during that span.
Collins said he does have some concern about Gee's health.
"Last night we asked him throughout the game," Collins said. "In the second inning, I think, he told me it kind of tightened up a little bit and then loosened up as he went back out and warmed up the next inning."