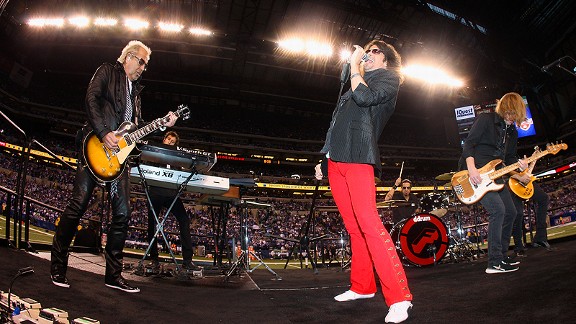 Al Pereira/WireImage
It not only feels like the first time. It is the first time Foreigner will play Citi Field.FIRST PITCH: Foreigner plays Citi Field tonight.
The warm-up act: Shaun Marcum (0-7, 4.96 ERA) versus Chicago Cubs right-hander Edwin Jackson (2-8, 5.76) in the series opener at 7:10 p.m.
Read the series preview here.
Friday's news reports:
• Matt Harvey limited St. Louis to one run in seven innings, but nonetheless suffered his first 2013 loss as the Cardinals won the rubber game, 2-1, Thursday afternoon. Marlon Byrd homered in the ninth, but the tying run was stranded at third base when Edward Mujica struck out pinch-hitter Josh Satin to end the game. Afterward, the highly competitive Harvey indicated he should have pitched better and matched Adam Wainwright zero-for-zero.
Writes columnist Joel Sherman in the Post:
It is not his fault. Harvey is doing all he can to raise the competitiveness and win total of the Mets. But unless he morphs into the baseball version of Bugs Bunny -- first base, Matt Harvey; second base, Matt Harvey -- the organization's biggest issue will not be if Harvey can lift those around him, but whether they will take him down, as well.
Manager Terry Collins, in fact, was compelled to have a private chat with Harvey yesterday, to counsel his young ace to stave off frustration after more genius was soiled not by the opponent, but his own teammates. We could say Harvey is enduring friendly fire, but that would mean saying these Mets have fire.
Writes columnist Bob Klapisch in the Record:
That was the most depressing takeaway from the 2-1 loss to the Cardinals, that not even Harvey, the boy king, can slow the Mets' march to 100 losses. Like everything else in Flushing lately, Harvey has been devalued. His most precious gift, a fastball that averaged 97.64 mph Thursday, took a back seat to the inevitability of the Fatal Flaw -- a lack of timely hitting, defensive mistakes, a game-ending strikeout with the tying run on third base -- that's rendered the Mets toxic.
The dejection was written all over Harvey's face in the postgame clubhouse. The right-hander managed to repeat all the right clichés, but his words lacked conviction after his first loss of the season. When Harvey said, "I needed to put up seven zeros" against Wainwright, it was nothing short of an indictment of an offense that ranks 12th in the National League in runs and 14th in OPS.
Read game recaps in the Post, Newsday, Star-Ledger, Record, Times, Journal and MLB.com.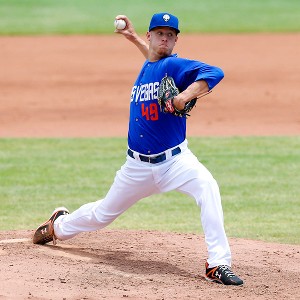 Larry Goren/Four Seam Images/AP Images
Zack Wheeler will deliver his next pitch in the majors.
• Zack Wheeler made his final start for Triple-A Las Vegas, allowing a solo homer but no other hits in 5 2/3 innings against Tacoma. Wheeler next is due to face the Atlanta Braves on Tuesday at Turner Field. The Mets will use a six-man rotation for at least one turn after Wheeler debuts, in large part because Dillon Gee (elbow) and Jonathon Niese (shoulder) have dealt with shoulder tendinitis.
"Everything feels good right now," Wheeler said, according to the Las Vegas Review-Journal. "I feel like I'm ready."
Said pitching coach Randy St. Claire, alluding to an early season blister problem: "Once that finger started feeling better, he started throwing the ball a lot better. Especially when he executes pitches down in the zone, it's electric stuff. Guys don't have good swings on it when it's down in the zone."
Read more in the Post.
• Harvey told Kristie Ackert in the Daily News he does not like the six-man rotation plan, although Harvey is likely to be least affected by it, since he would be the priority and would probably pitch on regular rest next Sunday at Philadelphia after Tuesday's outing against the Braves.
"I am not fond of it, but I don't make these decisions," Harvey told Ackert. "It's always been five days, at least as long as I can remember. I don't necessarily like the extra rest. I take pride pitching every five days, getting as many starts as I can," Harvey said. "Obviously I don't have a say in that. I guess I will have to make adjustments."
• The Mets considered partnering with a cougar dating web site to help promote David Wright's All-Star candidacy before abandoning the idea. Wright, meanwhile, revealed that he has asked the team to tone down its in-game promotion of his All-Star candidacy because it's not appropriate to single him out with the team doing poorly. Read more in the Star-Ledger, Daily News and Newsday.
• Ike Davis went 0-for-3 for Las Vegas on Thursday. Read more in Newsday.
• Responding to a Newsday article that suggested Mets brass was upset with Wally Backman's pronouncement he could fix Davis, Backman told the Daily News on Thursday: "I'm sorry if I ruffled any feathers. If you've got an issue with me, call me."
• Terry Collins indicated Scott Atchison should be ready to be activated from the DL after working consecutive days with Double-A Binghamton -- although the B-Mets were rained out at Trenton last night, preventing the second straight night of relief work.
• Rick Ankiel, designated for assignment during the weekend, has elected free agency, officially ended his Mets career.
• The St. Louis telecast of Thursday's Mets-Cards game caught a fan tumbling at Citi Field. Read more in the Daily News.
• Collins as well as Washington Nationals manager Davey Johnson will serve on Bruce Bochy's NL staff at the July 16 All-Star Game. Jim Leyland's AL staff also will have a Mets accent, with ex-Amazin's Robin Ventura (Chicago White S0x) and John Gibbons (Toronto Blue Jays). Read more in Newsday, the Post and Daily News.
• Left-handed strikeout machine Jack Leathersich has been promoted from Binghamton to Vegas. He made his debut in relief of Wheeler, striking out his first Pacific Coast League batter. Gonzalez Germen surrendered four eighth-inning homers as Tacoma routed the 51s after Wheeler's departure. In the Florida State League, T.J. Rivera had a tiebreaking RBI single in the ninth as St. Lucie beat Clearwater, 5-4. Jayce Boyd went 4-for-4 with a three-run homer and walk as Savannah moved closer to clinching the first-half title with a 9-4 win against Greenville. Boyd as well as Kevin Plawecki should get promoted to St. Lucie within days. Read the full minor league recap here.
• Catching prospect Travis d'Arnaud is due to get his fractured left foot reexamined Monday.
• From the bloggers … Faith and Fear rues the day the Mets couldn't get Harvey off the hook. … John Delcos at Mets Report advocates extending Collins. … Rising Apple wonders when Wilmer Flores will get a big-league shot. … Mark Berman at Blogging Mets looks back at one of the stranger moments in Mets history.
BIRTHDAYS: No one to play for the Mets was born on this date, but Donald Trump and Boy George celebrate birthdays today. Not together.
TWEET OF THE DAY:
Finally made it here!!! 102 degrees out!! #51s pic.twitter.com/vkMk9aNcuy

— Jack Leathersich (@LeatherRocket) June 14, 2013
YOU'RE UP: What is your favorite Foreigner Song?