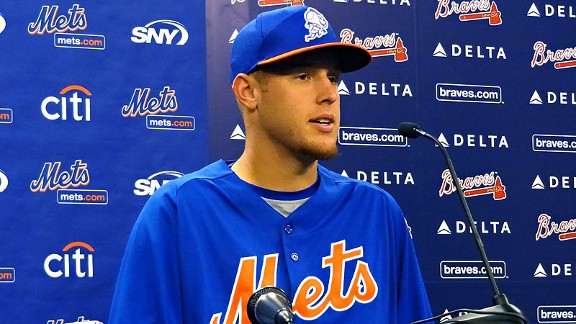 Adam Rubin
Zack Wheeler speaks to the media on Monday at Turner Field.ATLANTA -- Zack Wheeler spent Sunday night at his home 30 miles west of Turner Field, sharing recollections with his two brothers, family and three buddies.
"It was a good time, just talking and hanging out, telling some stories," Wheeler said.
Now, Wheeler will shift to the team hotel and into game mode. The 23-year-old Wheeler makes his major league debut in Game 2 of a doubleheader Tuesday night against the Atlanta Braves -- perhaps aptly following Matt Harvey in the matinee, as he has followed Harvey with hype into the majors.
"He set the bar so high because he just took off once he came up here," Wheeler said Monday afternoon about Harvey at a news conference at Turner Field. "Some people expected it. Some people didn't. I'm just going to go out there and do the best that I can. People can take it how they want it. Hopefully I'll do well and just be up there with him."
Wheeler insisted he was not as big a Braves fan growing up as people might think, having preferred the NBA. Still, he grew up appreciating Chipper Jones as well as John Smoltz, Tom Glavine and Greg Maddux.
"I wasn't a huge baseball fan, watching-it-wise," Wheeler said. "I liked watching basketball a little bit better. But, I mean, how could you not watch the Braves growing up when my pops was watching it and they were good? It was fun watching it even though I wasn't a huge Braves fan, like everyone thinks I am."
Wheeler's last visit to Turner Field came for a workout shortly before he was selected sixth overall by the San Francisco Giants in the 2009 draft.
"It might have been in this locker room, actually," he said, referring to the site of Monday's news conference. "It was the pre-draft workout. I threw like the day before in the high school playoffs, so I didn't get to do the workout. So I was just here walking around and stuff."
He expects an enormous turnout of family and friends, since this is basically a home game for the family.
"From what I hear and see, it's going to be a huge turnout, because I grew up in Smyrna," Wheeler said. "That's about 30 minutes away from here. And I moved out to where I live now my eighth-grade year. So I've got both sides coming. There's going to be a lot of people."
He will wear No. 45, which he has been wearing since he was a teenager.
"Just growing up I think I always had 12 or 21 or something like that," Wheeler said. "Adam, the one that played baseball [in the Yankees organization], my brother, he always had 45 for some reason. I don't know why he had it. I just grew up liking it. So I took it over when I was like 13, I think."
The best advice he has received for his major league debut? That actually came a few years back and stuck with him, Wheeler said. It came from ex-big league pitcher Steve Kline, Wheeler's pitching coach in low-A while with the Giants.
Recalled Wheeler: "He said: 'Whatever you do, don't go up there and look up, because all the lights and the fans will be moving and it will make you sick.' I think he actually said he threw up off the back of the mound his first time. He told me not to look up. That was his advice a couple of years ago. And I've always remembered that for some reason."
As for the expectations, Wheeler added: "I don't think I'm the savior at all. We've got great arms here, and you've got great players. We might not be doing too well right now, but I know the talent of these guys, and hopefully we can turn it around soon. ... I'm just trying to come up here and play the best that I can, help out the team any way I can. I know people are going to scrutinize. We aren't doing too well right now, but hopefully we can turn it around and everybody will like us again."