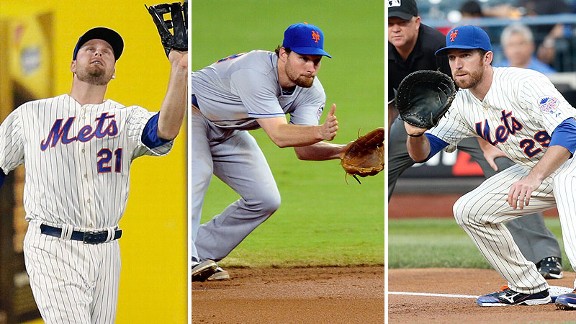 USA TODAY Sports
Lucas Duda is the Mets' latest first baseman, following Daniel Murphy and Ike Davis.ATLANTA -- What changed in the past week that now has prompted the Mets to move Lucas Duda to first base, a week after finding that unattractive?
Terry Collins said the staff determined Daniel Murphy at second base, Duda at his natural position, and an outfield of Kirk Nieuwenhuis, Juan Lagares and Marlon Byrd is the "best lineup" at this point.
"You're allowed to change," Collins said. "There's nothing that's etched in stone. You're allowed to make changes and you're allowed to make decisions that you think are in the best interest of the ballclub. And last week we made decisions that we thought were in the best interest of the ballclub. They didn't work. So, as I ask our players to adjust, I've got to do the same thing."
Said Duda: "I played there most of my amateur career. Hopefully I can just get the job done, and catch the ball and throw it."
One of the reasons for hesitance a week ago that Collins cited was that it would send the wrong message to Ike Davis to move Duda, a natural first baseman and therefore a threat, to that position. Still, Collins insisted, ultimately moving Duda to first base does not signal Davis will be in the minors longer than expected. Davis is hitting .174 (4-for-23) with four walks and seven strikeouts through six Triple-A games.
"Obviously I know it's Ike's position," Duda said. "I'm just there to help out the team any way I can. I don't really feel like there's any awkwardness, I guess."
Collins hopes Duda playing at his natural position will help him at the plate as well. Duda started four games at first base last season, and 41 times overall during his major league career.
"We've taken other guys and said, 'Hey, let's put them where they're comfortable,'" Collins said. "The only guy we haven't done that to is Lucas. So we just said, 'You know what? We'll put him over there. And if Ike gets it going, we'll just put him back in left field.' ... That's where he plays the best. He's excited about being back over there, which I think is a very positive thing. Dan wants to play second. He's happy he's going back to second. We'll just see if it transforms into a productive lineup."
Duda borrowed a first-base glove from Murphy. It's the same one Murphy had borrowed from Justin Turner last week.
Duda had played one spring-training game at first base, but had not been taking grounders at the position in-season except for fooling around on his own for a few minutes one day last weekend at Citi Field. With the tarp on the infield pregame Monday at Turner Field, Tim Teufel hit grounders to Duda in the outfield in lieu of the canceled batting practice session.
The decision ends a run of six straight starts for Jordany Valdespin at second base. Valdespin hit .130 (3-for-23) during that stretch.
"I told Jordany today he's going to become very, very valuable, because the one thing he does very well is come off the bench in big situations," Collins said. "And the other thing is he's going to have to use his athleticism to play around, because right now he's the backup shortstop."