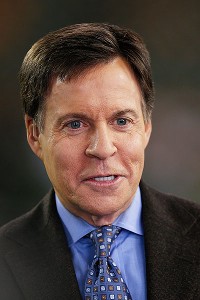 Scott Boehm/Associated Press
Bob Costas criticized the Mets' walk-off celebration Sunday.
ATLANTA -- Broadcaster Bob Costas phoned Mets PR man Jay Horwitz on Monday morning to say he "didn't mean any harm" when he criticized the Mets' walk-off celebration Sunday, Horwitz revealed.
Costas, while narrating highlights during a golf telecast, said: "And the team 14 games under .500 celebrates as if it just won the seventh game of the World Series. Another indication of the ongoing decline of Western civilization."
Said Terry Collins: "He's an intelligent guy. I really don't know what that all means. I know one thing: We had a nice celebration. ...
"Show me a team that has a walk-off home run that they don't celebrate. Show me one. I've seen the Yankees do it. I've seen the Cardinals do it. I've seen the Los Angeles Dodgers do it. Everybody is excited, and especially when you have a young guy like Kirk [Nieuwenhuis] come up and do it in that situation. We're down three runs. It seemed like we hadn't won a game in a week. All right, civilization is over. We'll have to rebuild. We're starting today."
Asked if he would have been more concerned with no celebration, Collins said: "If they just packed up their crap and went inside, yeah I'd be a little concerned."