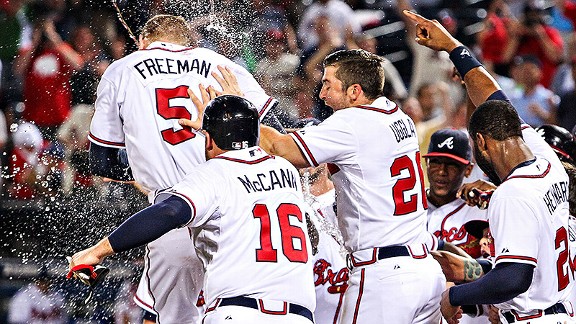 Daniel Shirey/USA TODAY Sports
Freddie Freeman celebrates a walk-off two-run homer against Dillon Gee.ATLANTA -- Terry Collins did not second-guess the decision to send out Dillon Gee for the ninth inning. Nor did he second-guess the decision to keep Gee in the game after Justin Upton delivered a one-out single -- even though ensuing batter Freddie Freeman had two of the Braves' three hits entering the ninth inning against Gee.
#35 SP
New York Mets
2013 STATS
"He deserved to go out there in my opinion," Collins said after Freeman's walk-off two-run homer on Gee's 101st pitch lifted the Braves to a 2-1 victory at 1:22 a.m. "... He was mowing them down pretty good, so I thought he deserved to go out there. And if you're going to send him out there, you've got to let him have a chance. If you're just going to take him out after the first guy gets on, you shouldn't send him out."
Said Gee: "That's a tough loss."
Gee nonetheless has had an extraordinary four-start stretch, posting a 1.53 ERA.
"It's tough after something like this to be pleased, though," he said. "You go out there and have the opportunity to have a complete game and get a win for the team, it's tough to be pleased when you lose. That's the bottom line."
As for the fateful pitch to Freeman, Gee said: "I thought the slider was the right pitch. It's just I didn't make a good enough one. He's a good hitter. ... It was probably inside corner, but just up enough for him to get to it."
Gee said the elbow tendinitis that has plagued him recently remained, although it obviously has not detracted from his performance.
"It's about the same," Gee said. "We're doing a good job managing it. It's still there, but it's fine. It's not really gotten any worse or better."
Gee had warmed up a couple of times during the rain delay, falsely thinking the game was about to begin. He then was not prepared when the game actually started -- not that it hampered his performance.
"I didn't actually know we were playing until they took the field," Gee said. "And then I jumped on the mound real quick and threw, maybe, 15 pitches."