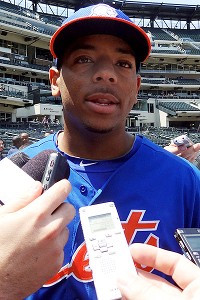 Adam Rubin
Dominic Smith
ATLANTA -- First-round pick Dominic Smith could officially be on board with the Mets by the end of the day, multiple sources told ESPNNewYork.com.
"It's in the process of being finalized --hopefully today," one insider said.
Smith, a 17-year-old high school first baseman from Los Angeles, is expected to open his professional career in the Gulf Coast League, which is based in Port St. Lucie, Fla.
The MLB recommended amount for the 11th overall pick is $2.84 million.