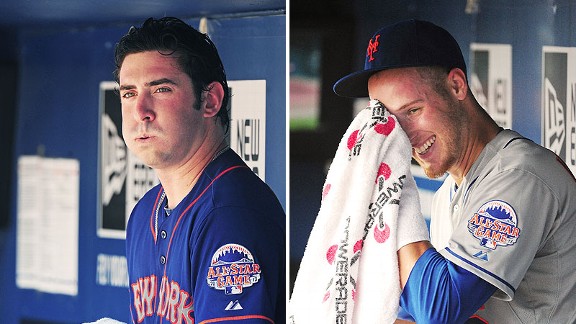 Getty Images
Mets fans got treated to a double-feature Tuesday with Matt Harvey and Zack Wheeler.ATLANTA -- After tossing six scoreless innings and earning the win Tuesday night, Zack Wheeler signed autographs for the locals from his hometown who came to Turner Field for his major league debut. Terry Collins then gave Wheeler the option of spending the night at home in Dallas, Ga., or back at the team hotel.
"I think I'm just going to stay at the hotel," Wheeler said after the Mets swept the Braves in a doubleheader with a 6-1 nightcap win. "I'm tired."
For a fan base beaten down by the travails of a team heading for its fifth straight losing season, Tuesday's dominance by Matt Harvey and then Wheeler's victory proved a welcome reprieve -- a chance to consider what might be.
"That's a formidable two arms that hopefully develop into a 1A and a 1B," David Wright said. "Obviously, just like every other Mets fan I was eager to kind of see what all the hype was about. It gives you a good glimpse of possibly what could be in the very near future. ... I'm a firm believer that as much as I'd like to try to go out there and score 20 runs a game, you see how necessary pitching is and you see how quickly good, young power arms can turn an organization around -- Washington, San Francisco. That's crucial for us to hit on some of these good, young power arms that we have. It seems like we have plenty of them. Zack is obviously at the head of that class."
Wheeler walked a pair of runners in the first inning and confessed he was amped up early. He walked five batters overall.
"A little bit was nerves," Wheeler said, before adding: "It really wasn't nerves. I wasn't nervous. It was adrenaline, I think. Everything was just sped up a little bit mechanically. I just couldn't get comfortable and find a rhythm and release point. It was all over the place. I was around the strike zone, but it was still balls."
Said Harvey: "You could tell that he came out and was a little bit excited. The ball was a little all over the place. But he settled in nice and went six innings. That's a really good hitting team. So obviously going out there six innings in your debut and not giving up any runs, that's a pretty impressive start."
Wheeler said he paid close attention during Harvey's matinee start. The duo are not identical pitchers, but they're both right-handed and can rev their fastball to the upper-90s.
During the first inning, Wright, pitching coach Dan Warthen, Anthony Recker and Daniel Murphy all made separate visits to the mound to calm him. Wright had dined with Wheeler in the wee hours of Tuesday morning, after the Mets finished their scheduled Monday game at 1:22 a.m.
"I was just asking him how he felt and if he was nervous or not. He said he wasn't nervous," Wright recalled about their dinner. "And then they were spraying the ball everywhere. So I just told him that he was a liar, that he looked nervous. It was cool. It's cool to see anybody make their major league debut, but when you have those kind of expectations and you're as highly touted as he is, to come in and live up to those expectations and be as cool and calm and collected as he was is pretty cool to see."
Wheeler is particularly close to Jason Heyward, with whom he trains in Atlanta during the offseason.
"I didn't look at him," Wheeler said. "I usually stare at people when they come into the box. But I didn't look at him because I didn't want to laugh or anything, because he's a jokester."
Wheeler had quite the cheering section behind the Mets dugout. And his parents sat next to Chipper Jones in the second row behind the plate. That was arranged by Wheeler's agent, who also represented Chipper.
In the end, the feel-good Mets' day had ended with the team's first doubleheader sweep in Atlanta since July 7, 1987.
"I can't remember the last time we swept a doubleheader, so that's nice -- especially here," Wright said. "It was nice to get those two wins. And it was nice to see both of those guys pitch as well as they did. Obviously the stuff is there. That's the first time I've really got a chance to see Wheeler throw. The stuff is there. The confidence is there. The poise is there. Now it's just a matter of kind of getting on that Matt Harvey program where you start commanding it and harnessing that stuff. But you can tell why he's so highly touted. It's all there."