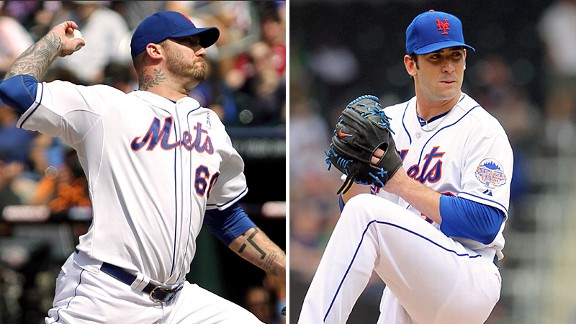 USA TODAY Sports
Jon Rauch and Matt Harvey were not best buds as teammates last season.ATLANTA -- One reason why the Mets did not pursue re-signing Jon Rauch after last season? Let's just say it was known around the club that Matt Harvey was not a fan, and that the teammates had an incident last season.
In a well-written feature on the Harvey-Zack Wheeler celebration Tuesday, Jeff Passan at Yahoo! relays the story of Rauch trying to haze the sleeping rookie Harvey last season. Writes Passan:
Rauch, according to people who saw the incident, barged into the room with bucket of ice water, which he proceeded to dump on Harvey. It waterlogged Harvey's phone, which was resting on his chest as an alarm, and incited an even more electrical reaction inside Harvey.
He bounded up and challenged Rauch to a fight. Right there. Right then. He gave up 7 inches, about 75 pounds and a gallon or so of bad ink. It didn't matter that he was a rookie. Harvey would not be a joke. He would not be a punch line in Rauch's re-telling. He would not let some mediocre clown play him.
Rauch backed away.