2012 first-round pick Gavin Cecchini had a taste of Brooklyn at the end of last season, participating in the final week of the regular season and then experiencing the playoffs with the Cyclones.
"Obviously my favorite part is when we clinched," said the 19-year-old shortstop from Lake Charles, La. "Some of us are over 21, but we were popping apple cider in the clubhouse and stuff like that."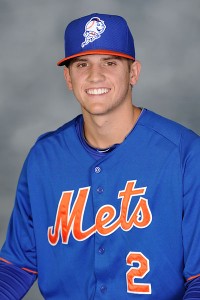 Courtesy of New York Mets
Gavin Cecchini
After spending March, April, May and early June in Port St. Lucie, Cecchini is now back with the Cyclones, this time as the starting shortstop. He made his season debut Monday on Opening Day at Staten Island, albeit committing a costly error.
"You ask anybody who has played in extended [spring training]. It's a little tough," Cecchini said about the wait to start his season. "But I try to look at it as it's the game I love to play, and I'm out here playing baseball. And that's really all that matters -- no matter if I'm playing in front of five people, which is what it was in extended, or 10,000 or 8,000 over here in Brooklyn."
How is Cecchini a better player than one year ago, when he was drafted 12th overall and signed for $2.3 million?
"I think I'm way more consistent than last year with hitting, fielding, baserunning," he said. "It's really the small things, man. Talent can only take you so far. The rest of it is all mental. The people who can get over failure the quickest are the ones that are going to be the best. There's no doubt that I know how to handle the failure and move on."
Cecchini's path is easier because his brother blazed it before him. Third baseman Garin Cecchini, a fourth-round pick of the Red Sox in 2010, is hitting .350 with five homers and 33 RBIs for high-A Salem. The brothers played two years of high school ball together. They train together in the offseason in Louisiana, too, along with Yankees minor league shortstop Carmen Angelini, Padres high-A shortstop Jace Peterson and outfielder/third baseman Josh Prince, who made his major league debut with the Brewers this season.
"Obviously he went through the whole summer circuit and the draft before me," Gavin said about Garin. "I had an edge, and I have an edge, on a lot of the players because I have a brother who has been there through that and who teaches me how to handle things and go through things. I learn from the mistakes he made and I take the good things he does.
"He's an awesome baseball player. He's doing unbelievable this year. He's hitting like .360. Something like that. Hopefully he gets a call-up to Double-A at the All-Star break. He made the All-Star team. He's awesome. He's not only a great player, but an awesome person, too."
Organization leaders
Average: James Roche, Brooklyn, .667; LJ Mazzilli, Brooklyn, .500; Jorge Rivero, Brooklyn, .500; Jayce Boyd, Savannah, .361; Nelfi Zapata, Brooklyn, .333; Cesar Puello, Binghamton, .330; Allan Dykstra, Binghamton, .318; Kevin Plawecki, Savannah, .314; Josh Rodriguez, Binghamton, .314; Travis Taijeron, Binghamton, .312.
Homers: Cesar Puello, Binghamton, 13; Dustin Lawley, St. Lucie, 13; Travis Taijeron, Binghamton, 13; Kirk Nieuwenhuis, Vegas, 10; Allan Dykstra, Binghamton, 10.
RBI: Wilmer Flores, Vegas, 54; Dustin Lawley, St. Lucie, 48; Jayce Boyd, Savannah, 46; Cesar Puello, Binghamton, 46; Kevin Plawecki, Savannah, 43.
Steals: Cesar Puello, Binghamton, 17; Darrell Ceciliani, Binghamton, 15; Alonzo Harris, Binghamton, 13.
ERA: Shane Bay, Brooklyn, 0.00; Akeel Morris, Brooklyn, 0.00; Rainy Lara, St. Lucie, 1.54; Rafael Montero, Vegas, 2.40; Matt Bowman, St. Lucie, 2.41; Gabriel Ynoa, Savannah, 2.77; Noah Syndergaard, St. Lucie, 3.11; Robert Gsellman, Brooklyn, 3.14; Luis Cessa, Savannah, 3.24; Angel Cuan, St. Lucie, 3.74.
Wins: Matt Bowman, St. Lucie, 8; Logan Verrett, Binghamton, 8; Gabriel Ynoa, Savannah, 8; Rafael Montero, Vegas, 7.
Saves: Jeff Walters, Binghamton, 16; Bret Mitchell, Savannah, 10; T.J. Chism, St. Lucie, 7; Beck Wheeler, Savannah, 6; Hamilton Bennett, St. Lucie, 4.
Strikeouts: Rafael Montero, Vegas, 84; Matt Bowman, St. Lucie, 73; Zack Wheeler, Vegas, 73; Carlos Torres, Vegas, 67; Logan Verrett, Binghamton, 66.
Short hops
• Noah Syndergaard allowed one hit in a scoreless inning and earned the win and starting left fielder Dustin Lawley went 3-for-4 and scored twice to lead the South past the North, 8-1, in Saturday's Florida State League All-Star Game. T.J. Rivera played a full game at second base and went 0-for-5.
Syndergaard -- the highly regarded right-hander acquired in the R.A. Dickey trade -- now should head to Double-A Binghamton for the second half, part of a trickle-up of top prospects.
Also expected to be on the move: catcher Kevin Plawecki (.314, 6 HR, 43 RBIs), first baseman Jayce Boyd (.361, 5 HR, 46 RBIs) and outfielder Brandon Nimmo (.302, 1 HR, 21 RBIs) from first-half division champ Savannah to St. Lucie.
Boyd went 1-for-3, Plawecki went 0-for-2 and Nimmo went 0-for-1 in Tuesday night's 2-1 South Atlantic League All-Star Game loss to the North at Lakewood, N.J. Savannah teammates Beck Wheeler and Bret Mitchell combined to toss a scoreless relief inning.
• With Las Vegas short starting pitchers with Zack Wheeler and Carlos Torres promoted and Collin McHugh designated for assignment and then traded to the Rockies for Eric Young Jr., Jacob deGrom was promoted from Binghamton to the 51s' rotation. Whether deGrom remains or returns to the B-Mets will be discussed after evaluating last night's start (5.2 IP, 8 H, 1 R, 1 ER, 2 BB, 3 K). DeGrom, a ninth-round pick in 2010 from Stetson, in part was chosen because he was on the proper rest.
• Right-hander Dylan Owen underwent surgery for a torn meniscus in his right knee.
• Allan Dykstra, acquired from the Padres at the end of spring training in 2011 in a change-of-scenery trade for fellow first-round-pick Eddie Kunz, is on a tear with Binghamton. Dykstra, a first baseman, is hitting .412 with four homers and 11 RBIs in 11 games in June. He also has walked 11 times, giving him a .553 on-base percentage this month. For the season, Dykstra is hitting .318 with 10 homers and 42 RBIs in 176 at-bats.
• From the small-world department: Brooklyn catcher Colton Plaia, a 15th-round pick from Loyola Marymount, played high school ball in California for coach Brett Kay. Kay was the primary catcher for the inaugural edition of the Cyclones in 2001. Kay shared in a New York-Penn League championship that season.
• Shortstop Amed Rosario, who last summer was handed the largest international signing bonus in franchise history ($1.75 million), is expected to open in the Appalachian League with Kingsport when play begins Thursday. That's a rare feat at 17 years old. Wilmer Flores also played for the K-Mets at that age, back in 2008.
• The Mets' revived Gulf Coast League team opens play Friday. Players assigned to that squad should include first-round pick Dominic Smith as well as 18-year-old outfielder Wuilmer Becerra, who arrived with Travis d'Arnaud and Syndergaard for Dickey last December. Smith tweeted Tuesday: "I will start my professional career tomorrow! I'm very excited to get out there and practice with my team for the first time!"
• Lefty reliever Jim Fuller has a 0.84 ERA in 16 appearances with St. Lucie. In 32 innings, he has allowed 15 hits and 16 walks while striking out 31. Lefties are hitting .116 against him.
• Center-field prospect Matt den Dekker made his season debut in the minors on Monday with St. Lucie after recovering from a fractured right wrist suffered in a Grapefruit League game on March 24.
• Left-hander Darin Gorski (shoulder) returned from the DL last Wednesday to toss four innings for Binghamton. He last had appeared April 26 with Vegas.
• Cesar Puello is day-to-day with a finger injury, which he suffered sliding into second base last week at Trenton.
• B-Mets outfielder Cory Vaughn will not require surgery on his ailing right elbow. He instead is rehabbing in Port St. Lucie.