ATLANTA -- Eric Young Jr. tonight becomes the 10th leadoff hitter for the Mets this season. And Terry Collins suggests he will appear in the No. 1 slot in the batting order and in center field "quite often" -- giving the Mets their first bona fide leadoff hitter since Jose Reyes, according to the manager.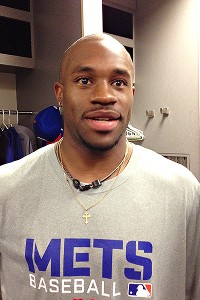 Adam Rubin
Eric Young Jr. speaks with media after joining the Mets in Atlanta.
Young, acquired from the Colorado Rockies on Tuesday night for Collin McHugh, joined the team this afternoon.
The Mets last used 10 leadoff hitters in a season in 2003.
"He's a switch-hitter who we're going to probably play quite often to see what he brings to the table and see where he best fits," Collins said. "We'll pick and choose our spots for the other guys. So hopefully he brings that energy and that speed that he brought to Colorado and helps get us going offensively.
"I certainly don't know what went on in Colorado. I don't care. He's here and we're going to try to see if he can help us. ... We're hoping he brings something to the table that we haven't had since Jose [Reyes] -- that guy that can get on and create runs."
Young has started 48 games in left field, 44 games at second base, 33 games in right field and 29 games in center field in his major league career. He told Collins his most comfortable position is center field, although he was frequently boxed out there in Colorado by Dexter Fowler.
Young said he was pleased to join the Mets, in part because he was raised in Piscataway, N.J., and still has family there.
"I definitely still go back and visit on holidays, so pretty much the whole state has been calling me up so far," Young said. "... My dad is excited. I think he always wanted to be a Met. He never got the chance to. He's excited for me. And, like I said, I'm excited."
Young spent the several days in limbo while he was designated for assignment working out in Arizona, where his wife's family resides. He was hitting .242 with one homer and eight steals in 165 at-bats with Colorado this season. He is the son of 15-year major leaguer Eric Young.
"Whenever I got the call, I wanted to be ready to go," he said.