ATLANTA
FIRST PITCH: The day after the Matt Harvey-Zack Wheeler doubleheader, it was back to reality for the Mets.
Only three more days until Harvey pitches again, Sunday in Philly.
Now, on to the rubber game of the five-game series against the Atlanta Braves tonight.
Jonathon Niese (3-6, 4.15 ERA) opposes left-hander Mike Minor (8-2, 2.68) at 7:10 p.m.
Thursday's news reports:
• Shaun Marcum surrendered five runs in 4 2/3 innings and dropped to 0-9 as the Mets lost to the Braves, 5-3, Wednesday night at Turner Field. Terry Collins said the Mets will go from a six- to five-man rotation at some point in the near future, and no later than when play resumes after the All-Star break. Marcum offered no concern about whether his rotation spot is in jeopardy.
Read game recaps in the Post, Daily News, Times, Newsday, Star-Ledger, Record, Journal and MLB.com.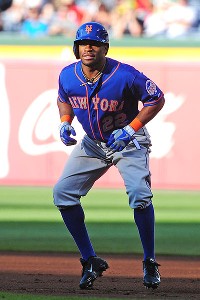 Scott Cunningham/Getty Images
Eric Young Jr. went 1-for-4 in his Mets debut last night.
• Eric Young Jr. started in center field and batted leadoff in his Mets debut Wednesday. He went 1-for-4. Collins said Young will start "quite often."
Writes Jared Diamond in the Journal:
Not coincidentally, teams that struggle in that [leadoff] spot often struggle to win: Since 1921, the 112 squads that auditioned at least 10 different starting leadoff hitters combined to compile a .459 winning percentage. The Mets, who joined that club when they tried Young in the leadoff hole, will probably make things worse.
Read more on Young in the Daily News, Record, Star-Ledger and MLB.com.
• Harvey reportedly threatened to beat up then-teammate Jon Rauch last season after the then-rookie was the victim of a hazing incident. Read more at Yahoo!, the Post, Newsday, Star-Ledger and Daily News.
• Columnist John Harper in the Daily News advocates Collins returning to manage the Mets next season, asserting he deserves a chance with a better roster. "It'll never, ever be about me,'' Collins told Harper. "This game is about the players. Do I want to be here next year? Sure I do. But it's not something I worry about, because you preach and you preach and you preach [to players] to only worry about what you can control, and that's what I do."
• Allan Dykstra homered twice and Cesar Puello returned from a weeklong absence caused by a finger injury as Binghamton split a doubleheader at Richmond. Robbie Shields homered in a five-run fourth as St. Lucie beat Charlotte, 5-4. Seventh-round pick Matt Oberste had his first professional homer, but Brooklyn lost to Staten Island, 5-2. Read the full minor league recap here.
• First-round pick Dominic Smith began working out Wednesday in Port St. Lucie in advance of the Gulf Coast League season, which begins today. The Mets confirmed they had signed their top 14 picks.
• Scott Atchison (groin) landed on the DL before Wednesday's game to cap a flurry of moves in a 24-hour period. That included acquiring Young for Collin McHugh, promoting Andrew Brown, designating for assignment Collin Cowgill, placing Justin Turner (side) on the DL and temporarily demoting Wheeler to Las Vegas until Tuesday's scheduled start at the Chicago White Sox. Read more in the Star-Ledger and Newsday.
• Brian McCann told ESPNNewYork.com that Wheeler is a future ace, while Chipper Jones tweeted he prefers retirement to having to face Harvey and Wheeler.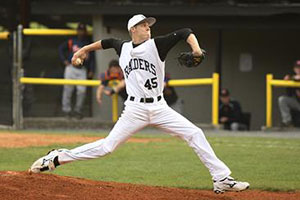 Courtesy of Wheeler family
Zack Wheeler pitched at East Paulding (Ga.) High. His high school coach attended his major league debut.
Columnist Mike Vaccaro in the Post visited Dallas, Ga., the day after Wheeler's start and talks to the phenom's high school coach, Tony Boyd. Writes Vaccaro;
Yesterday, the town was buzzing about its favorite son. A mother pointed to the scoreboard beyond left field, which Wheeler donated, and a couple of older men in VFW hats and folding chairs talked about listening to the game on the radio Tuesday night.
And Tony Boyd basked in the memory of the one who takes his breath away, still, four years after he last threw a fastball for him. He hadn't bothered Wheeler after the game, didn't want to add to the crush of people around him, so he texted him a simple message: "I was there last night. You were great."
"Coach," Wheeler responded, "thanks for coming."
If only the kid knew: that's exactly what the old coach has been thinking for the last seven years. Savoring every second.
Neil Best in Newsday reports SNY had a season-high 3.23 percent of New York area homes tune in for Wheeler's debut. The network had been averaging less than 2.0 percent this season. Harvey last year had a 3.46 percent rating for his debut.
Writes columnist Joel Sherman in the Post about Super Tuesday:
It is amazin' what a little bit of hope can do. The Mets, even with a doubleheader win [Tuesday], are tied for the fourth-worst record in the majors. Yet, just having the combo of Harvey/Wheeler pitch, and pitch well, makes the whole atmosphere around the club at least a little brighter.
If you are a Met fan, you can dream that June 18, 2013 was a beachhead, a day when the organization began going in a better direction. It was a day when both Harvey and Wheeler earned victories, and a fan base felt like winners again -- at least for 24 hours.
Look, the Mets are still not good enough. There are just too many holes in the lineup and bullpen, too much negative karma still to reverse. But there always has to be a start to something good, and in baseball that start usually begins with talent. And we already knew about Harvey's talent and now we have glimpsed the skill of Wheeler and it no longer is some far-off blueprint about them uniting.
Jorge Castillo in the Star-Ledger breaks down Wheeler's pitch selection in his debut.
• Ruben Tejada, on the DL with a right quadriceps strain, is not progressing well.
• Prospect Luis Mateo underwent Tommy John surgery last week.
• WTOC in Savannah catches up with 2011 first-round pick Brandon Nimmo here.
• From the bloggers … Faith and Fear examines the "ordeal" of yet another Marcum defeat.
BIRTHDAYS: No one to play for the Mets was born on this date, but Nicole Kidman and Lionel Richie celebrate birthdays today.
TWEET OF THE DAY:
Dominic Smith first at bat as a pro.....basehit to rightfield ! I'm puttin the ball on EBay! pic.twitter.com/jd9l4kSU3B

— Tim Byrdak (@Givemethelefty) June 19, 2013
YOU'RE UP: Should the Mets pull the trigger now and make it a five-man rotation?