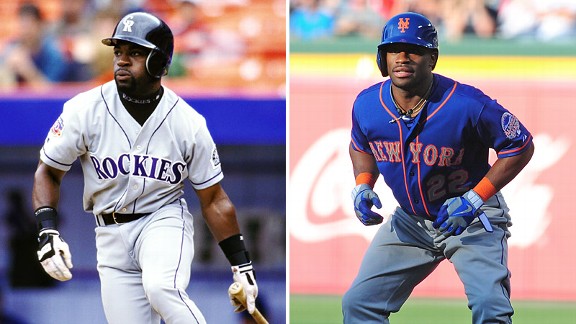 Getty Images
Eric Young Sr. (left) and Eric Young Jr. deployed similar skills in their playing careers.When Eric Young Jr. was a kid growing up in Piscataway, N.J., following the Bobby Bonilla-led Mets of the early 1990s, he would call his dad in Colorado or Los Angeles and ask him, "Dad, when are you going to play for the Mets or Yankees? Then you'll always be home."
Eric Sr. never got the chance to call New York home as a player in his 15-year career, but he's certainly enjoying the early success his son is having as a Met.
After going 1-for-8 in two games against the Braves, Young Jr. was 7-for-14 with three doubles and five RBI in the weekend series win over the Phillies and has shown off his speed and hustle, making for close plays even when he hits a routine grounder to short.
Eric Young Jr. - 2013 Season
"I think the cross-country flight [from Colorado to Atlanta] got to him," said the elder Young, who previously worked as an analyst on Baseball Tonight and now works on the Houston Astros pre-and-post-game shows "But once he got to Philadelphia, he was able to really take off."
The younger Young has long been a favorite of assistant GM Paul DePodesta. This was the Mets' second attempt to obtain him, having been unsuccessful in attempts to trade for him in the 2011-12 offseason.
"He's been a shot in the arm for us," David Wright said after Sunday's win. "I think it's unfair to expect him to keep up at this pace. He's been great in the outfield. He's set the table. And he's provided some thump as far as some extra-base hits. And you know he can steal a bag. And I think sometimes pitchers worry about him on the basepaths and might leave one over the plate for you."
Eric Sr. made his career out of being a useful player in that regard -- one who could play multiple positions and who could create opportunities with his speed. He didn't make the majors until age 25, but became a favorite both of his teammates and fans with how hard he played.
Eric Young Sr.
The role he's taken on when it comes to his son's baseball career is to be his "mental coach."
"I can't take the credit for his baseball skills," Young Sr. said. "He's had a lot of coaches who made him into the player he is today. But I'm his best friend. I can always get him thinking positive and focused on what he needs to get better if he's in an 0-for-8."
When his son was designated for assignment by the Rockies earlier this month, Young had the words to heal any sort of sting. He explained the reality of the situation -- the Rockies have a lot of "young studs" and his son needed to go somewhere else to flourish.
"He told me it was a blessing in disguise," said Young Jr. "He said to just be ready to go when you get back up. He's taught me how to go about my business on the field and off the field. He makes sure that I don't get too high or too low."
Young Sr. has watched every game and every at-bat since the Mets obtained his son. There's no one more psyched than he is that one of the Youngs is finally playing for the Mets.
"I looked at it as a great, great chance to jumpstart his career," he said. "I hope he's able to take advantage of it."