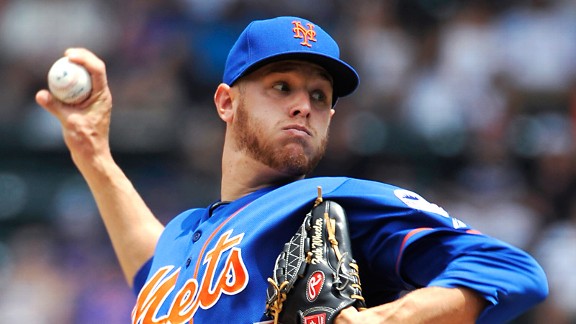 Kathy Kmonicek/Associated Press
Zack Wheeler suffered his first major league loss Sunday.FIRST PITCH: The Mets conclude their final first-half homestand with a four-game series against the NL West-leading Arizona Diamondbacks.
The Amazin's face southpaws in the first two games of the series: Wade Miley (4-7, 4.55 ERA) opposing Shaun Marcum (1-9, 5.08) at 7:10 tonight, then unbeaten Patrick Corbin (9-0, 2.22) against Jeremy Hefner (2-6, 3.72) on Tuesday.
Arizona arrives having been swept over the weekend in Atlanta.
Monday's news reports:
• A Mets official tells Mike Puma in the Post that the organization is unlikely to add a major piece such as Carlos Gonzalez at the trade deadline. "I don't think that's something [for] right now," the source told Puma. "That's probably something more for the offseason."
Writes Puma:
This year's pool of potential trade bait includes Marlon Byrd, Daniel Murphy, Dillon Gee, Jeremy Hefner and Bobby Parnell. But the Mets aren't going to trade any of those players just for the sake of making a deal. The organization's biggest trade chips, pitching prospects Rafael Montero and Noah Syndergaard, would likely need to be included in a deal to land the kind of high-impact outfielder the Mets covet.
• Zack Wheeler surrendered five runs in 4 2/3 innings in his home debut and confessed often-elusive fastball command again troubled him, while Brandon Lyon was charged with six runs in the eighth. The result: The Nationals beat the Mets, 13-2, in Sunday's rubber game at Citi Field. "I've always struggled with my fastball command," Wheeler said.
IT HAPPENS
A comparative look at Zack Wheeler and Dwight Gooden in the first three starts of their major league careers.
"Today he had trouble throwing strikes," Nats third baseman Ryan Zimmerman told Barbara Barker in Newsday. "I don't care who you are. When you get behind in this league, it doesn't matter if you throw 100 like [Matt] Harvey or 80. It's tough to pitch when you're behind."
Writes columnist Joel Sherman in the Post:
Like it or not, fair or unfair, Wheeler will be assessed on the Harvey scale: The younger brother trying to keep up with the elder prodigy. The second guy over the mountain attempting to provide more reason for hope to a fan base yearning for any sign that tomorrow will be better.
Writes Brian Costa in the Journal:
What gets lost in all this is that Harvey is the exception, not the rule. Take a glance at the statistical leaderboards this year and you'll find that even at the top, most pitchers went through some degree of early growing pains. Cliff Lee had a 5.43 ERA the year before he first received Cy Young votes. Clayton Kershaw finished his rookie season with an ERA of 4.26.
Even Justin Verlander, whose ascent to stardom was almost instantaneous, had a 6.86 ERA after his first four starts. He went on to win the AL Rookie of the Year award in 2006.
For Wheeler to have a 5.06 ERA, some fastball command issues and a mechanical glitch or two after three major-league starts doesn't mean he'll follow the same path. But it's not an indictment of him, either. It just means, as pitching prospects go, he's pretty normal.
Writes columnist John Harper in the Daily News:
Because so much of GM Sandy Alderson's plan is built around young pitching, in fact, Wheeler's home debut felt at least somewhat ominous. That's probably an overreaction based at least partly on Harvey raising the expectations even higher for Wheeler. And, of course, it's worth remembering that Harvey too was roughed up in his second and third starts after his callup last season.
From there, he made adjustments and delivered a string of strong starts, setting the stage for his brilliant 2013 season.
Read game recaps in the Post, Daily News, Star-Ledger, Record, Times, Newsday, Journal and MLB.com.
Read more from the Nats on Wheeler in the Post.
• Catcher Anthony Recker pitched the ninth inning and surrendered a two-run homer to Ian Desmond. Read more in the Post, Star-Ledger, Daily News, Newsday and MLB.com.
• Justin Turner is tossing a baseball but not yet swinging a bat as he recovers from an intercostal muscle strain on his left side, while Lucas Duda remains limited to getting treatment for a similar injury. Neither is close to returning. Read the full injury update here.
• Matt den Dekker, who suffered a broken right wrist on March 24 in the Grapefruit League, is due to join Las Vegas today. Mike Baxter has temporarily left the 51s to be with his pregnant wife in New York.
• Matt Fox tossed six scoreless innings as Las Vegas beat Tacoma, 4-1. Cesar Puello had a two-run homer against rehabbing Yankee Michael Pineda and also drove in the tiebreaking run as Binghamton reached 50 wins before July 1 for the first time in its 22-year history. Cole Frenzel had a walk-off RBI single in Savannah's 2-1, 10-inning win against Rome. Robert Gsellman tossed eight scoreless innings, but Hudson Valley beat Brooklyn, 1-0 in 11 innings. Read the full minor league recap here.
• Brandon Nimmo will learn today whether he has been voted in by fans to the Futures Game, joining fellow Mets farmhands Noah Syndergaard and Rafael Montero.
• MLB will announce the latest NL All-Star voting tally Tuesday. Online voting closes Thursday at 11:59 p.m. The All-Star team will be announced Saturday.
• From the bloggers … Faith and Fear in Flushing believes someday we will look back on Sunday's 13-2 loss and it will all seem funny. … John Delcos at Mets Report wonders if the Mets were premature in promoting Wheeler. … Mark Berman at Blogging Mets suggests Wheeler is apparently no Harvey, but that's not necessarily a bad thing.
BIRTHDAYS: Original Met Craig Anderson was born on this date in 1938.
TWEET OF THE DAY:
Stay hot! Not too many people can get locked into there stadium! Yes they can!! Stuck in Historic Grayson! Help!! pic.twitter.com/wgySBGJDTo

— Frank J. Viola, Jr. (@FrankViola16) June 30, 2013
YOU'RE UP: Do you believe the Mets will acquire a significant piece for 2014 and beyond at the trade deadline?