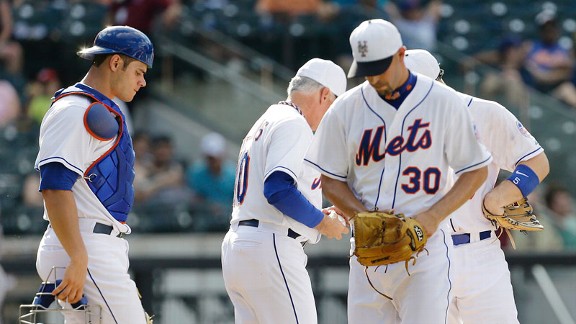 Frank Franklin II/Associated Press
David Aardsma departs after walking in the go-ahead run in the 13th inning Thursday.NEW YORK -- The Mets arrived home last weekend off a grueling road trip. The jaunt included playing five games pretty much crammed into three days in Atlanta. It also included three games in three days in three different time zones for the first time in franchise history.
The workload did not get any lighter back home.
In fact, the series against the Arizona Diamondbacks that was completed Thursday with a 5-4, 15-inning loss became the longest four-game series in the majors since 1989. And that's just the actual time of games -- not including the combined three hours, 32 minutes of rain delays in the middle two games of the series.
"I'm very proud of the way they've handled themselves," Terry Collins said after the series finale. "I've been doing this longer than most of you are alive and I've never been through two weeks of more grueling baseball than we've just been through. How some of those guys are still standing, I have no idea. We've certainly got to be proud of the fact that we battled, we hung in there, we had chances. So did they. It's one of those days.
"We haven't gone to bed before 2 o'clock in the last three or four nights. Right now we should have been sitting in the hotel in Milwaukee. We haven't left here yet. They're tired. There's three guys that said their legs were gone about the 10th inning. You can certainly understand it in those conditions."
The Mets played a 13-inning game Monday, had rain delays of 1:41 and 1:51 in the middle two games of the series, then played 15 innings in the finale.
The 16:40 of actual playing time -- excluding the delays -- was the longest for a four-game series in the majors since the Los Angeles Dodgers and Houston Astros played 16:51 in a four-game set at the Astrodome in 1989, according to STATS LLC.
"Obviously it sucks to lose the game. But hopefully we can carry the momentum from the effort we put out there and some of the results we got too and just use it to carry over into this road trip," said catcher Anthony Recker, whose 13th-inning homer prolonged Thursday's game. "I wouldn't say it's deflating. It's tough. It's baseball. Everybody is out there doing their best and just trying to win the game. Things didn't roll our way, but we'll come back tomorrow and go at them again."