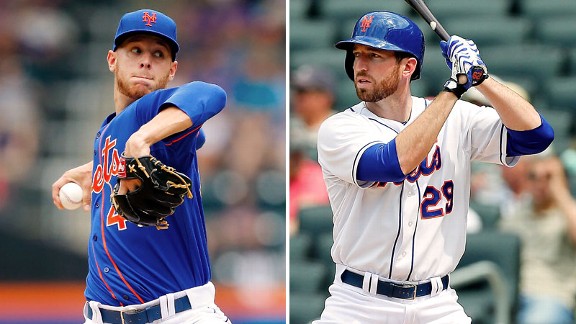 Getty Images
Zack Wheeler and Ike Davis figure to be the two primary storylines Friday.FIRST PITCH: Ike Davis is crashing Zack Wheeler Day.
Davis' demotion ended on Day 25 when the first baseman was instructed to rejoin the Mets on Friday in Milwaukee, according to a source. Also en route: sidearmer Greg Burke. He will take the bullpen spot previously held by Brandon Lyon, who was designated for assignment.
The Mets, who are carrying an extra bullpen arm, will have to make another roster move before the game. The simplest transaction would involve returning Gonzalez Germen to Las Vegas unused. But if there is concern about Shaun Marcum's durability on Saturday and the Mets want to keep the extra arm around, perhaps that endangers Kirk Nieuwenhuis or Jordany Valdespin.
Anyway, Wheeler actually will have more major league experience than his opponent in tonight's series opener versus the Milwaukee Brewers at Miller Park at 8:10 p.m. ET.
Wheeler -- who needs to throw more fastballs, according to Terry Collins -- will oppose Brewers rookie right-hander Johnny Hellweg. Hellweg (0-1, 20.25) has two appearances and one start on his major league résumé.
Read the Mets-Brewers series preview here.
Friday's news reports:
• The Mets got game-tying solo homers from Anthony Recker in the 13th and Nieuwenhuis in the 14th but did not have an answer when Scott Rice surrendered an RBI single to Cliff Pennington in the 15th as Arizona beat the Mets 5-4 Thursday afternoon at Citi Field. It marked the longest four-game series in Major League Baseball since 1989 -- rain delays excluded -- and left the Mets exhausted, according to Collins.
The Mets became the first team with a pair of game-tying homers in the 13th inning or later since the Braves did so against the Mets on the exact anniversary -- July 4, 1985 -- according to ESPN Stats & Information. The Mets dropped to 0-3 in 15-plus-inning games this season. They are the first team in the expansion era (since 1961) to lose three or more games of that length in two different seasons.
Read game recaps in the Post, Daily News, Journal, Times, Star-Ledger, Record, Newsday and MLB.com.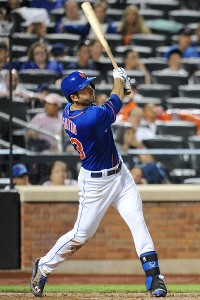 Joe Camporeale/USA TODAY Sports
Josh Satin will be the playing-time loser with Ike Davis returning.
• Davis' return undoubtedly will greatly diminish the playing time of Josh Satin, who is hitting .353 with a homer and seven RBIs in 51 at-bats. Satin also has a 10-game hitting streak and .468 on-base percentage.
Collins has said Davis is not returning for a part-time role.
Assuming Collins is obligated to play Davis a lot at first base, little room exists for Satin. He can play third base, but David Wright is not ceding much time there. Satin is a natural second baseman, but the Mets mostly have abandoned using him there because of his non-ideal fielding prowess. Satin also has dabbled in the outfield, but the Mets have shown no inclination to use him there. There is little room anyway in the outfield since Eric Young Jr. (switch-hitter), Marlon Byrd, Juan Lagares and Andrew Brown all hit righty, as Satin does.
Davis hit .293 with seven homers in 75 Triple-A at-bats.
Read more on Davis' return in the Post, Newsday, Daily News, Times, Star-Ledger and Record.
• The follow-up MRI of Jonathon Niese's left shoulder (partial rotator cuff tear) will wait until Monday. Niese originally was due to see a team doctor Thursday, but Independence Day vacation plans in the Hamptons -- for the doctor, not Niese -- resulted in the delay.
• A brief media session with Wheeler on Thursday got a little awkward. Writes columnist David Lennon in Newsday:
Why underperforming reliever Brandon Lyon -- who was designated for assignment after the game -- felt it necessary to mock the proceedings was a mystery. That the respected veteran LaTroy Hawkins chose to grab a tape recorder, stick his hand into the circle and pretend to be a reporter was just silly and stupid. As soon as Hawkins intervened, Wheeler clammed up, clearly self-conscious about what was happening, even though it was exactly what is supposed to happen in a major-league clubhouse, especially in New York. Reporters ask questions of players, who choose to answer them or not.
Some are better at handling this relationship than others, but it's all part of the learning curve, one that suddenly has become Matterhorn-steep for Wheeler. And that's OK. He seemed fine answering questions about Wednesday's side session; it was his two teammates who made him uncomfortable, which then cut things short.
As for that side session, the between-starts throw day that lets pitchers recalibrate while on the mound, Wheeler didn't sound too pleased by the adjustments he tried to make. Location has been a problem, along with tipping his pitches, and it was unclear what progress he made. "Going into a game when you're struggling a little bit, and your side is horrible, it sucks,'' Wheeler said. He described the session as "really just a wasted bullpen."
• All-Star voting has concluded. The rosters will be announced Saturday at 6:30 p.m. ET.
• Collins said John Buck will still get the bulk of the playing time behind the plate, even though his average has plummeted to .205. Read more in Newsday and the Daily News.
• Bob Costas apologized to the Mets after the fact, but still believes his ribbing of the Mets' June 16 walk-off celebration -- saying it was an indication of the decline of western civilization -- was unnecessarily inflamed. "Of all the faux controversies, this is among the dumbest I've ever seen or heard," Costas told ESPN Radio, according to Newsday.
• Danny Muno had two homers and seven RBIs as Binghamton beat New Hampshire 7-6. In the Gulf Coast League, first-round pick Dominic Smith produced his first professional homer. Read the full minor league recap here.
• From the bloggers … John Delcos at Mets Report believes All-Star voting is a joke, including the Mets' efforts on behalf of Wright. … Mets Police asks: Is Mr. Met wearing a knockoff cap or is it just faded?
BIRTHDAYS: Former submarine reliever Jeff Innis turns 51.
TWEET OF THE DAY:
The only one happy about this... #mets pic.twitter.com/fwyn7X4aH7

— _NESNY_ (@_NESNY_) July 5, 2013
YOU'RE UP: How much playing time should Ike Davis and Josh Satin get now that both are on the major league roster?