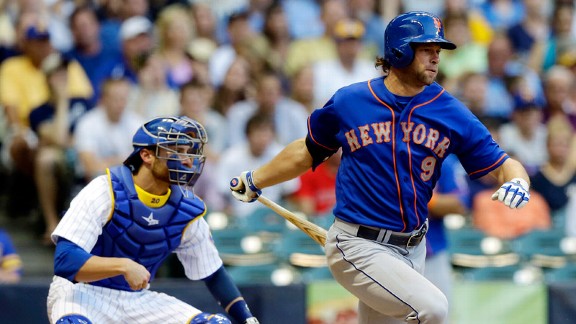 Morry Gash/Associated Press
Kirk Nieuwenhuis reached base six times on Friday night.MILWAUKEE
FIRST PITCH: Shaun Marcum faces his former employer on Saturday at 7:15 p.m. ET when the Mets and Milwaukee Brewers continue their series at Miller Park.
Marcum (1-9, 5.03 ERA), who pitched the past two seasons for the Brewers before signing with the Mets as a free agent, opposes right-hander Yovani Gallardo (6-8, 4.78).
Although Marcum experienced tingling in his fingers during his last start and subsequently underwent an MRI on his upper back, Terry Collins said he expected no health impediments to Marcum's start today.
"Shaun feels great, so I don't plan on anything happening," the manager maintained.
Also on tap today: The All-Star teams will be announced at 6:30 p.m. ET. David Wright and Matt Harvey figure to represent the Mets, although the starting pitching assignment is not due to be officially announced by NL manager Bruce Bochy until the day before the July 16 game at Citi Field.
Saturday's news reports: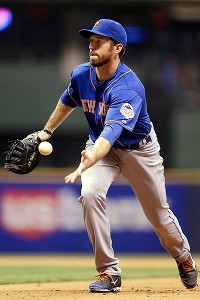 Morry Gash/Associated Press
Ike Davis had three hits in his return to the majors Friday.
• Ike Davis went 3-for-5 with two RBIs and a walk in his return to the majors. Davis acknowledged Friday afternoon that his three-plus-week stint in Triple-A was beneficial in quieting his swing. Meanwhile, Terry Collins pledged to continue to find ways to get Josh Satin at-bats, including potentially in the outfield.
Read more in the Post, Daily News, Newsday, Star-Ledger, Record, Journal and MLB.com.
• Kirk Nieuwenhuis became the first Met in 13 years to reach base six times in a nine-inning game without benefting from an error and Zack Wheeler notched his second major league win as the Mets beat the sloppy Brewers, 12-5, at Miller Park.
"Just to come in here and not drag our feet and get some momentum after yesterday, that was big for us," Nieuwenhuis said postgame Friday, referring to a 15-inning loss to the Arizona Diamondbacks at Citi Field on Thursday.
Read game recaps in the Post, Daily News, Newsday, Star-Ledger, Record, Times and MLB.com.
• Wheeler next gets to face the Giants -- the organization that traded him to the Mets two years ago. He will oppose Matt Cain on Wednesday at AT&T Park in San Francisco.
As for Friday's five-inning outing in which he surrendered three runs (one earned) in five innings, Wheeler greatly increased the percentage of fastballs he threw. Wheeler tossed 80 fastballs among his 98 pitches. The heater averaged 95.9 mph and topped out at 97.1 mph.
"I don't know about command-wise, but I'm feeling more comfortable," he said. "Command will come once I start settling down a little bit and focus on getting ahead of guys. That's the biggest thing."
• A Mets source tells Fox's Ken Rosenthal the organization would not trade Bobby Parnell unless they are "blown away" by a trade proposal.
• Mike Pelfrey and R.A. Dickey are the opposing pitchers Saturday as the Minnesota Twins and Toronto Blue Jays play, notes David Waldstein in the Times.
• Michael Salfino in the Journal determined the Mets' .220 average at Citi Field is the seventh-worst in the majors for a team at home since 1921.
• Jeyckol De Leon's three-run homer helped lift Kingsport to a 5-3 win against Johnson City. Read the full minor league recap here.
• Gonzalez Germen was demoted before Friday's game without the rookie making a major league appearance to clear a roster spot for the additions of Davis and Greg Burke. Brandon Lyon had been designated for assignment Thursday.
• Hunter Atkins in the Times reviews the Mets' 2008 draft class five years later.
• From the bloggers … With Davis' promotion, the Mets have important decisions to make, writes John Delcos at Mets Report.
BIRTHDAYS: Willie Randolph turns 59. … Lance Johnson is 50.
TWEET OF THE DAY:
WHY THE HELL IS #mets ALWAYS TRENDING

— The Half-Minute Man (@thirty_second) July 6, 2013
YOU'RE UP: Do you feel better about Ike Davis returning after seeing Friday's results?