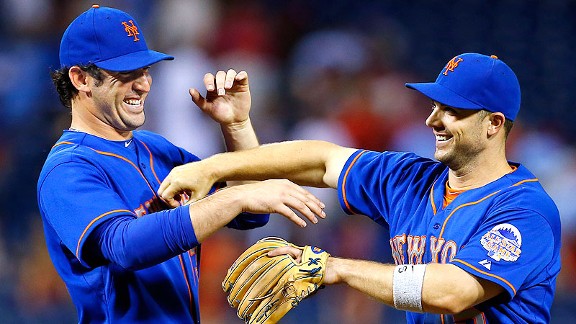 Rick Schultz/Getty Images
Matt Harvey and David Wright will represent the Mets in the July 16 All-Star Game at Citi Field.MILWAUKEE -- No surprise here: David Wright and Matt Harvey will represent the Mets in the July 16 All-Star Game at Citi Field.
In the end, Wright handily beat San Francisco's Pablo Sandoval for the National League's starting assignment at third base by more than 1.9 million votes (6,411,381 to 4,507,219).
It is Wright's seventh All-Star selection in the past eight seasons. His lone absence during that stretch came in 2011, when a stress fracture in his back had sidelined him from mid-May through the All-Star break. The seven selections tie him with Mike Piazza and Darryl Strawberry for second most in a Mets uniform. He trails only Tom Seaver (nine).
"The system has voted me in the starter before. And, like last year, there's sometimes a disappointment that comes along with that also," Wright said, alluding to finishing behind Sandoval in balloting in 2012 and being selected as a backup. "The game is for the fans, and, ultimately, the fans get the final say."
SHINING STARS
The Mets have had 111 players selected to the All-Star Game in the club's 52-season history. Here is the leaderboard for most times selected as a Met.
Harvey becomes the first Met selected in his first full season in the majors since Dwight Gooden and Strawberry in 1984 (although Straw debuted on May 6, 1983 and got 420 at-bats that season).
Harvey is a strong candidate to start for the NL, although that is not due to be formally announced by NL manager Bruce Bochy until the day before the game.
Harvey has two more scheduled first-half starts: Monday against Bochy's Giants in San Francisco -- opposite Tim Lincecum -- and in Pittsburgh next weekend.
Terry Collins, who will be on Bochy's NL staff as a coach, has penciled in Harvey for the Sunday start against the Pirates. But the likelihood is the Mets move Harvey up a day to next Saturday on standard rest to ensure Harvey would be capable of starting the All-Star Game.
Harvey then would have a limit of about 35 pitches in the All-Star Game and go one or two innings, depending upon his efficiency. The Mets do not feel comfortable skipping Harvey's last first-half start entirely, since Pittsburgh is leading the NL Central and, therefore, Harvey starting when due is important for the integrity of that division race.
The last player to start an All-Star Game on the mound in his home ballpark was Roger Clemens with Houston in 2004. If Harvey is named the starter, it would mark the fourth time a Met will have started an All-Star Game at pitcher. He would join Gooden (1986 and '88) and Seaver (1970).
"What does he have, two more starts?" Wright asked about Harvey. "Assuming he goes out there and does what he's been doing thus far, I think he's well deserving. He had a little bump in the road his last start, but if you look up and down the National League -- forget about the game being in New York -- beyond that I don't see anybody else that has gone out there and dominated the way he's dominated this year. I think he deserves it, assuming he goes out there and has a couple of good starts."
Said Collins: "I thought Matt would pitch good. I didn't realize he'd pitch this good. From what I saw last year in the second half, you'd say, 'Wow, the sky's the limit here.' To come as fast as he's come, to where he's at right now, it's pretty impressive."
Wright, meanwhile, also will participate in the Home Run Derby. As the NL captain, he can select three players. Wright said bullpen catcher Dave Racaniello or bullpen coach Ricky Bones will throw to him, although neither is eager.
"No one really wants to do it," Wright said. "They keep pawning it off on each other. There's a lot of pressure. There's probably more pressure throwing. I can't hit them unless they throw it where I want it. Both of them are kind of shying away."
As for which NL batters he might pick to compete, Wright said: "When I sat down and started making a list of guys I'd like to get involved, it ended up being eight, nine, 10 guys long, and I can only invite three. So there's going to be some guys that I want to ask that I can't just because of a numbers restraint."
Wright said his first All-Star Game, back in '06, when he finished second in the Home Run Derby to Ryan Howard in Pittsburgh, was his favorite.
"I did well in the Home Run Derby. And then I hit a home run in my first at-bat of my first All-Star Game," Wright said. "That's the one that jumps out to me. No question."