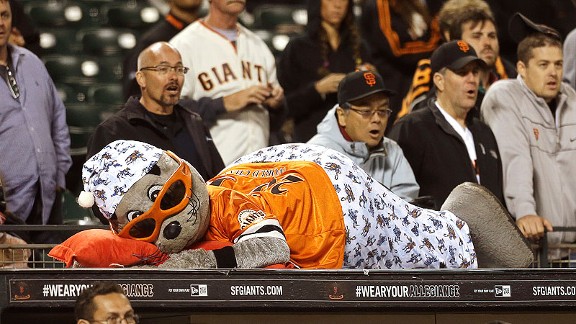 Jeff Chiu/Associated Press
Giants mascot Lou Seal takes a nap during the 15th inning Monday night.SAN FRANCISCO
FIRST PITCH: In all his years, Terry Collins has not seen anything like this season, between the snow in April in Minneapolis and Denver, the rainouts, and the extra-inning games that have gone 15, 20, 15 and now 16 innings.
"I've never even heard of anything like this," Collins said after the Mets beat the Giants, 4-3, in 16 innings in a game that ended at 3:42 a.m. ET Tuesday. "The games we've played, the innings we've played, the conditions we've played, the travel schedule, it's unbelievable."
The Mets' four games of 15-plus innings match the franchise record, also done in 1968, according to ESPN Stats & Information. And there's still nearly half a season remaining.
Had the Mets not won Monday night's/Tuesday morning's game in the 16th with Bobby Parnell on the mound, Collins said he "probably" would have inserted Jordany Valdespin next to pitch.
The series continues at 10:15 p.m. ET today as Dillon Gee (6-7, 4.45 ERA) opposes left-hander Barry Zito (4-6, 4.44).
Tuesday's news reports:
• Matt Harvey and Tim Lincecum each received no-decisions in the latest marathon game for the Mets. The Mets finally scored in the 16th when Giants shortstop Brandon Crawford had a two-out fielding error.
Read game recaps in the Post, Daily News, Newsday, Star-Ledger, Times, San Francisco Chronicle and MLB.com.
• After the extra-inning win, Collins and Harvey acknowledged the ace has been dealing with a blister on his right index finger, which prevented him from throwing a between-starts bullpen session.
NL manager Bruce Bochy had all but said Harvey's outing Monday night was not material to the decision for All-Star starting pitcher, which is widely expected to go to Harvey. Even Los Angeles Dodgers ace Clayton Kershaw said Harvey merits the start in next Tuesday's game at Citi Field. Collins said either Harvey will have a shorter-than-normal outing Saturday in Pittsburgh or will be skipped entirely (with Carlos Torres presumably stepping in) so that Harvey can be ready to pitch in the All-Star Game.
Read more on the blister in the Post.
Read more on Harvey expected to start the All-Star Game in the Post and Newsday.
• Zack Wheeler is looking forward to facing his former employer Wednesday. Meanwhile the Giants say they do not regret sending Wheeler to the Mets at the 2011 trading deadline for Carlos Beltran. "I played with Crawford and [Brandon] Belt," Wheeler said. "I got to know [Pablo] Sandoval and [Barry] Zito just from rehab starts and stuff like that. So I know a few of them."
• Jonathon Niese had a favorable medical examination with team doctor David Altchek on Monday in New York and has been cleared to head to Port St. Lucie, Fla., and begin throwing. Read more in the Post, Newsday and Times.
• The Mets were flying Gonzalez Germen in from Triple-A to join the major league club, signaling Shaun Marcum likely will land on the DL on Tuesday. Marcum was examined in St. Louis on Monday for hand numbness and coldness by the same specialist that performed surgery on Gee last July. Read more in the Star-Ledger.
• David Wright picked Carlos Gonzalez, Bryce Harper and Michael Cuddyer as his NL teammates for next Monday's Home Run Derby at Citi Field. Wright's primary rationale for picking Cuddyer: They're good friends since growing up together in Virginia.
• The Mets got an up-close view of the plane wreckage at San Francisco International Airport when they landed Sunday night from Milwaukee.
"I took pictures of it. It was pretty devastating," LaTroy Hawkins told Richard J. Marcus in the Post. "A lot more people could have lost their lives. Just seeing that seawall that the landing gear clipped, man. I am a scared flyer. I don't fly easily. It is one of my worst fears, flying. It is the first plane crash I've seen. I think with my case it is more of not being in control."
• Kyle Johnson, acquired in the trade with the Angels for Collin Cowgill, went 3-for-4 and scored three times in his St. Lucie debut after a promotion from Savannah. Jared King had two doubles and drove in the tiebreaking run as Brooklyn beat Lowell, 4-3. Rehabbing reliever Scott Atchison made his second Gulf Coast League appearance since landing on the disabled list with a groin injury. Read the full minor league recap here.
• Harvey almost missed the cutoff date for being included in ESPN The Magazine's "Body Issue," which will be available online today and on newsstands Friday. "This came very close to when we were about to go to press," ESPN senior deputy editor Neely Lohmann told Neil Best in Newsday. "I said, 'I think this is something we need to make an exception for.' … Definitely a good decision."
• Jared Diamond in the Journal asks whether how the Giants build an organization should be a model for the Mets.
• Read a snippet about Mrs. Mets in Newsday.
• From the bloggers … John Delcos at Mets Report notes success can be fleeting for a pitcher, as Lincecum's travails should demonstrate to Harvey.
BIRTHDAYS: Left-hander George Stone was born on this date in 1946.
TWEET OF THE DAY:
Took some great bp off Mookie Wilson yesterday Mixed emotions growing up a sox fan he taught me how to rollover to first #bleepinbuckner

— Jon Leroux (@JLeroux33) July 8, 2013
YOU'RE UP: How late did you stay up last night watching the Mets game before deciding to bail?