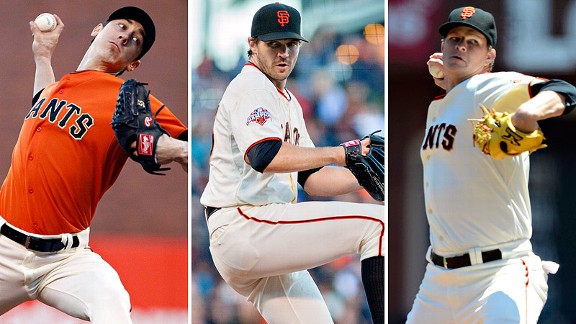 USA TODAY Sports
The Mets face (l to r) Tim Lincecum, Barry Zito and Matt Cain during a three-game series in San Francisco.METS (37-48, fourth place/NL East) vs. SAN FRANCISCO GIANTS (40-47, fourth place/NL West)
Monday: RHP Matt Harvey (7-2, 2.27) vs. RHP Tim Lincecum (4-9, 4.66), 10:15 p.m. ET
Tuesday: RHP Dillon Gee (6-7, 4.45) vs. LHP Barry Zito (4-6, 4.44), 10:15 p.m. ET
Wednesday: RHP Zack Wheeler (2-1, 4.29) vs. RHP Matt Cain (5-5, 4.85), 3:45 p.m. ET
Giants short hops
• The Giants placed catcher Buster Posey, second baseman Marco Scutaro and pitcher Madison Bumgarner on the NL All-Star team, which will be managed by San Francisco skipper Bruce Bochy. Hunter Pence is on the five-man NL ballot for additional fan voting. A year after having four starters selected to the game, including Pablo Sandoval over David Wright, the Giants will have none in the opening lineup at Citi Field on July 16.
• Angel Pagan is likely out for the season after undergoing left hamstring surgery in late June. The ex-Met signed a four-year, $40 million deal in September. Pagan originally was injured on May 25, when his inside-the-park homer lifted the Giants past Colorado. He aggravated the tear during a rehab game. Fellow ex-Met Andres Torres primarily has played center field in Pagan's absence. Torres was forced to leave Friday's game with a right calf cramp, but since has returned.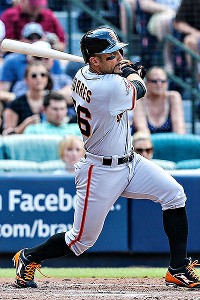 Daniel Shirey/USA TODAY Sports
Andres Torres has taken over for injured fellow ex-Met Angel Pagan in center field.
• Posey has been starting at first base more frequently of late because of leg tightness.
• San Francisco was no-hit by Cincinnati's Homer Bailey last Tuesday. The Giants last had been no-hit in 2003, by Kevin Millwood of the Philadelphia Phillies. Since the move to San Francisco, the Giants have been no-hit 11 times. The others to accomplish the feat against them: Warren Spahn (1961), Sandy Koufax (1963), Ryan Washburn (1968), Jerry Reuss (1980), Charlie Lea (1981), Mike Scott (1986), Terry Mulholland (1990), Kevin Gross (1992) and Kevin Brown (1997).
• San Francisco has lost 11 of 13 and 16 of 21. The Giants have scored two runs or fewer in 12 of their past 16 games. They are 2-for-their-last-36 with runners in scoring position.
• Scutaro, in a 5-for-34 slump, recently has dealt with back problems. Also slumping: Pence is 0-for-his-last-22. Sandoval is 5-for-45 since returning from the DL for a foot injury. The Big Panda is homerless in his last 24 games. Brandon Crawford is 7-for-his-last-58 with no extra-base hits or RBIs in his past 18 games.
• The Giants got caught batting out of order Saturday. After the third hitter, Posey, delivered an RBI double in the first inning, Dodgers manager Don Mattingly informed umpires Posey was listed as the cleanup hitter, so it really had been Sandoval's turn to bat. Sandoval was ruled out, the runner returned to third and Posey had to bat again. He flied out.
• Tim Lincecum is winless since June 4. He is 0-for-4 with a 4.45 ERA in his past five starts.
• Matt Cain enters the series off an outing against the Dodgers in which he allowed eight runs while recording only seven outs. Cain had produced a 1.82 ERA in his previous five starts and had been unbeaten in his past 11 starts against the Dodgers. Cain had retired the final 20 batters he faced against the Colorado Rockies in his previous start.
• Santiago Casilla should return to the bullpen this week, after two more rehab appearances. Casilla had mid-May surgery to remove a bone cyst near his knee.
• Closer Sergio Romo allowed a three-run double in the ninth inning Sunday as San Francisco lost its rubber game to Los Angeles. Romo had mocked Hanley Ramirez after earning a save Saturday.
• Mike Kickham was demoted Sunday, after going 0-3 and surrendering 16 earned runs in 10 1/3 innings as a starter. His 13.94 ERA is the highest ever by a Giants starter in his first three outings. The decision coincided with Chad Gaudin's return from the disabled list.
• The Giants had scout Lee Elder watching Minnesota Twins relievers, the San Francisco Chronicle reported.
• Ryan Vogelsong suffered a broken right hand getting hit by a pitch May 20. He may resume throwing next week.
• Outfielder Gregor Blanco snapped an 0-for-25 drought Saturday with a three-hit game.