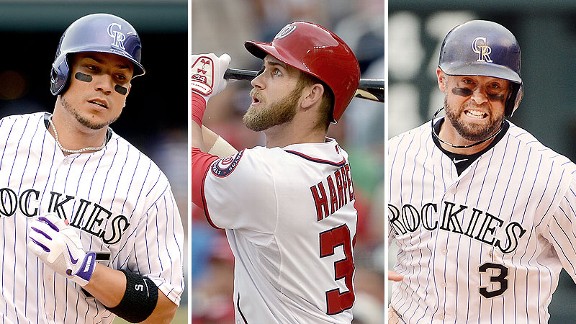 Getty Images
David Wright tabbed Carlos Gonzalez, Bryce Harper and Michael Cuddyer as his NL teammates for the Home Run Derby.SAN FRANCISCO -- NL Home Run Derby captain David Wright has selected Carlos Gonzalez, Bryce Harper and Michael Cuddyer to join him as teammates for the July 15 event at Citi Field.
Robinson Cano on the American League side selected Prince Fielder, Chris Davis and a yet-to-be-determined participant.
Wright said the rationale for his picks was straightforward: He picked the NL home run leader (Gonzalez), the leading vote-getter by a large margin by fans (Harper) and one choice for himself -- his childhood friend Cuddyer. Wright said all three accepted, so he never got further down on his list, despite other deserving candidates.
Told Phillies fans were upset about the omission of Domonic Brown, Wright said: "I'm sure there's a lot of people that are disappointed."
Added Wright: "I did it as easy as I knew possible. At the time when they needed to know who I was picking, I took the National League home run leader. I took the guy that won the fan poll -- the guy who the fans really wanted to see in the Home Run Derby. So you have CarGo and Bryce Harper. And that left me with the 'Ryder Cup captain's pick.' I grew up with Michael. I think that he's one of the more underrated players in the game. And, obviously, the friendship had something to do with it. And his production had a lot to do with it. You're talking about a guy that's got 15 or 16 homers. He had a 27-game hitting streak. For me, that was my choice.
"The other two I did it based on, like I said before, at the time who was leading the National League in home runs. That was CarGo. And then who the fans wanted to see. Because ultimately it's for the fans. And Bryce Harper won that running away. And then, like I said, the third pick I had to represent Virginia and the 757.
"I really am sorry. Carlos Beltran, Domonic Brown, [Paul] Goldschmidt, [Joey] Votto, [Pedro] Alvarez -- the original list that I had, I had all of those guys. The three guys that I asked to do it all said yes and jumped at it. Those are the three guys I originally asked and those are the three guys that said yes last week. It's a lot tougher than you would think it is. And you don't want to leave anybody out. And there's obviously guys that I left out. I apologize for that. Some people had to get left out."
Read the full news story here.