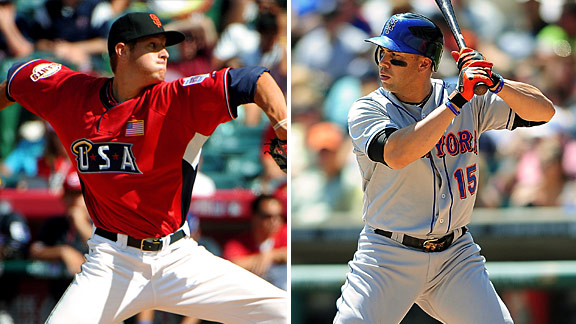 US Presswire
Zack Wheeler was pitching in Class A two years ago when he was traded from the Giants to the Mets for Carlos Beltran.SAN FRANCISCO -- Zack Wheeler, the sixth overall pick in the draft by the San Francisco Giants four years ago, faces his original ballclub in Wednesday's series finale.
Needless to say, he's motivated.
"I definitely want to go out there and do well for myself and maybe show them what they could've had, I guess," Wheeler said.
Meanwhile, manager Bruce Bochy said the Giants have no regrets about the July 28, 2011 trade that sent Wheeler to the Mets for Carlos Beltran.
San Francisco ended up missing the playoffs that season but did win the World Series in 2010 and 2012 with aggressive maneuvers. In '10 they acquired a couple of relievers at the deadline, Javier Lopez and Ramon Ramirez. In '12 they acquired Marco Scutaro and Hunter Pence and again won the title.
"Our pitching was doing such a great job there. We had trouble scoring runs," Bochy reflected about 2011. "And we felt that if we could get there that we could repeat. We were going into August sitting in a good position. We just needed a bat. We got a great guy [in Beltran]. Unfortunately, we lost him on the DL there [in August with a hand injury], but he did all he could to help us. Just as a group, without [Buster] Posey in the lineup, we just didn't have enough offense to do it.
"But I think any time you have a chance to win the World Series [you go for it] -- which we did in '10, we made a move, and 2012 we made some moves, and it worked out and we ended up getting rings on our finger because of it. That's something a lot of clubs do. Unfortunately, we just didn't have the bats to quite get us there [in 2011]."
Said Wheeler: "[Giants GM Brian Sabean] got the result that he wanted, not the year I got traded, obviously, but the next year. And that's the game of baseball. You trade people away and try to make deals happen so you can win. No hard feelings or anything. It's probably going to happen again sometime. Like I said, it's the game of baseball."
Bochy said he never did see Wheeler as a minor leaguer with the Giants but knows he has a "great arm."
Added Bochy: "That's why we picked him where we did. He's got great stuff."
Wheeler had been to AT&T Park once before, for a conditioning camp when he got drafted. He met Willie Mays.
He still hears plenty from Giants fans, primarily via Twitter.
"Yeah, all the time," Wheeler said. "Especially when I landed here yesterday, it blew up from Giants fans."