SAN FRANCISCO -- The Harvey Show versus The Freak Show ended up getting decided way after they departed. Waaaaaay afterward.
Shortstop Brandon Crawford's two-out fielding error on Anthony Recker's ground ball in the 16th inning allowed Eric Young Jr. to score from third base with the go-ahead run as the Mets beat the Giants 4-3.
Bobby Parnell allowed a pair of baserunners in the bottom half but escaped.
The game ended at 3:42 a.m. ET. It lasted five hours, 26 minutes.
It was the fourth time this season the Mets had played a game of 15 or more innings.
In the top of the 11th, Crawford had made a diving stop to his right, got to his feet and threw out Marlon Byrd at first base for the final out to prevent the go-ahead run from scoring from third base.
San Francisco stranded the bases loaded in the 13th against Greg Burke and in the 15th against Josh Edgin.
The Giants have lost 31 of their past 47 games.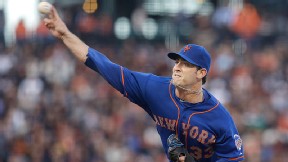 Jeff Chiu/Associated Press
Matt Harvey completed seven innings but received a no-decision Monday.Harvey show: Matt Harvey never did solve Buster Posey, but he still battled through seven innings as NL All-Star manager Bruce Bochy watched from the home dugout.
Harvey surrendered a two-run homer to Posey in the first inning, then held the Giants off the scoreboard for the next five frames.
He took the mound for the bottom of the seventh with a 3-2 lead and his pitch count at 107 and quickly lost the lead after only two pitches.
Hunter Pence snapped an 0-for-24 drought with a leadoff triple to the top of the high wall in right-center at AT&T Park. Crawford, in the midst of a 1-for-30 drought, then pounced on Harvey's first pitch for a game-tying RBI single.
Harvey had tossed 50 pitches after two innings, and 96 through five. He ended up matching his career high with 121 pitches. It was a confusing decision to send Harvey out for the seventh with the 3-2 lead if the Mets are going to cap his innings this year and do intend to pitch him Saturday in Pittsburgh, which Terry Collins said only a few hours earlier is the plan.
There's a clear case to be made to be wary of using Harvey after 100 pitches anyway:
According to ESPN alumnus Steve Glasser, tonight marked the fifth time this season Harvey took the mound for an inning with his pitch count already at 100. It was the first outing in which he even finished an inning in that situation. Harvey has allowed a run in four of those five appearances. In fact, Glasser noted, Harvey has allowed eight earned runs in 1 2/3 innings in those situations -- good for a 43.20 ERA. In innings this season that he began without his pitch count having reached 100, Harvey has allowed 29 earned runs in 135 innings, for a 1.93 ERA.
Posey (home run, double, single vs. Harvey in three ABs) became only the fourth player in Harvey's 29 career starts to have a three-plus-hit game against him. The others: Zack Cozart (four hits), Chris Coghlan (three) and Ed Lucas (three).
San Francisco exceeded two runs for only the fifth time in its past 17 games.
Harvey's line in a no-decision: 7 IP, 6 H, 3 R, 3 ER, 1 BB, 6 K, 1 WP, 1 HR.
Harvey has allowed three-plus earned runs in consecutive starts for the first time in his career.
Freak show: Tim Lincecum held the Mets hitless until Byrd's leadoff single in the fifth and deserved a better fate than his fielders afforded him.
Lincecum, the Giants franchise's all-time leader in double-digit-strikeout games, produced his first of 2013 with 11 K's in seven innings in a no-decision.
John Buck pulled the Mets within 2-1 with a one-out RBI double in the fifth. An inning later, Lincecum's fielders let him down, as the Mets posted two runs to take the lead.
Ex-Met Andres Torres had adventures with a pair of balls to left field -- Young's triple and Daniel Murphy's ensuing game-tying single.
Ike Davis subsequently grounded into a double play that plated Murphy and gave the Mets the lead, but Murphy was at third base and in position to score on the play only because of third baseman Pablo Sandoval's throwing error on David Wright's preceding infield single.
What's next: Dillon Gee (6-7, 4.45 ERA) opposes Barry Zito (4-6, 4.44) in Tuesday's 10:15 p.m. ET game.