SAN FRANCISCO -- The Mets no longer are double-digit games under .500.
Hey, it's a start.
Daniel Murphy delivered a tiebreaking sacrifice fly and Marlon Byrd followed later in the eighth with his seventh career grand slam as the New York Mets beat the freefalling San Francisco Giants 10-6 on Tuesday night at AT&T Park.
With their third straight win, the Mets (39-48) have ascended to nine games under .500 for the first time since June 1.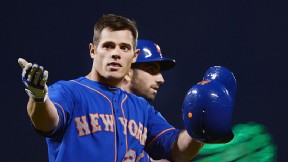 Kyle Terada/USA TODAY Sports
Anthony Recker had a two-run homer and stood his ground in a plate collision.Gee-pers: Dillon Gee surrendered five runs in seven innings and was unable to hold a 5-3 lead.
A half inning after the Mets left the bases loaded on consecutive strikeouts by Josh Satin and Andrew Brown against Jose Mijares, Pablo Sandoval's sacrifice fly evened the score at 5-5 in the bottom of the seventh.
Gee's line: 6.2 IP, 9 H, 5 R, 5 ER, 5 BB, 3 K. His five walks were his most since 2011, when he walked five once and twice issued a career-high six.
Train Reck: Anthony Recker has started to seriously chip away at John Buck's playing time.
Five innings after standing his ground in a plate collision, Recker delivered a two-run homer in the sixth against left-hander Barry Zito that handed the Mets a 5-3 lead.
Recker has now started four of the past eight games behind the plate. Four of his five homers this season have either tied the score or given the Mets the lead. The Mets are 6-1 in his past seven starts.
Buck is hitting .143 (8-for-56) in his past 15 games.
Recker also delivered a crushing blow to the Giants while behind the plate. Marco Scutaro attempted to score from first on Sandoval's two-out double into the left-field corner in the first. However, the Brown-to-Omar Quintanilla-to-Recker combination threw out Scutaro at the plate. Recker lowered his right shoulder and leveled Scutaro in the collision.
Recker did have one blemish Tuesday.
San Francisco opened the scoring in the second when Recker errantly threw the baseball into center field on a steal attempt with runners on the corners, allowing Hunter Pence to trot home. San Francisco took a 2-0 lead that inning when Murphy's throw home was high on Guillermo Quiroz's grounder to second base. Brandon Belt, who had advanced to third on the steal and E-2, scored on Murphy's misthrow.
What's next: Zack Wheeler faces the club that drafted him sixth overall in 2009. Wheeler (2-1, 4.29 ERA) opposes right-hander Matt Cain (5-5, 4.85) in Wednesday's 3:45 p.m. ET series finale. The Mets have not swept a series in San Francisco since 1994.