SAN FRANCISCO
FIRST PITCH: Carlos Torres is the newest starting pitcher for the New York Mets, although he still had some relief work left to complete before switching roles.
Torres, now due to take Shaun Marcum's rotation spot, worked two innings for the second straight day Tuesday night. He surrendered only his second run in 17 2/3 innings since a call-up from Triple-A Las Vegas, where he served as a starting pitcher.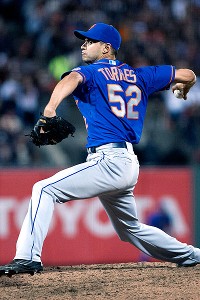 Ed Szczepanski/USA TODAY Sports
Carlos Torres is entering the Mets' rotation.
Torres, an ex-Rockies and White Sox pitcher, has been dominant since the call-up. That's a far cry from spring training, when he had been rocked to the point where he looked like he merited getting released.
Torres, 30, had an 8.44 ERA and allowed nine hits and four walks in 5 1/3 Grapefruit League innings before relocating to minor league camp.
Something clicked in mid-May for Torres in Triple-A. After a May 8 appearance against Round Rock in which he surrendered nine runs in four innings, Torres went on a tear. He finished his stint with the 51s with consecutive complete games, during which he allowed one run on five hits and two walks while striking out 15 in 18 innings.
"In spring training we were trying to make mechanical adjustments," Torres said. "We were trying to do a couple of things like move me farther to the left side of the rubber and move my front side up higher. And it just didn't end up working. We got to Las Vegas and they said go back to whatever you were doing."
Torres' June 15 call-up came after he forced the Mets' hands. He exercised an out in his contract and had the right to become a free agent if the Mets did not promote him. Rather than watch him walk, the Mets brought him to the big-league club as a reliever.
Torres said there was some uncertainty after he exercised the clause about what the Mets would do.
"I just took the opt-out and would see what happened after that," Torres said.
As for Wednesday's 3:45 p.m. ET series finale against the Giants, the Mets will be aiming for their first sweep in San Francisco since 1994. Zack Wheeler, the former sixth overall pick by the Giants in the 2009 draft, opposes Matt Cain.
"I looked at the schedule before the season," Wheeler said. "I was just looking through every game that we played, and supposedly when they were going to be calling me up in early June who I'd be facing. And I saw the Giants shortly after. Pretty cool."
Wednesday's news reports:
• Marcum will undergo season-ending surgery Monday in St. Louis for thoracic outlet syndrome, which caused numbness and coldness in his pitching hand. Torres will step into Marcum's rotation spot at least until Jonathon Niese returns.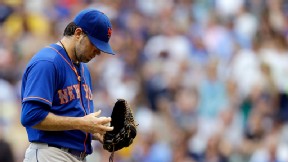 Jeffrey Phelps/Associated Press
Shaun Marcum is due to undergo season-ending surgery Monday in St. Louis.
Read more in the Post, Times, Daily News and Star-Ledger.
• Torres may actually start Saturday in Pittsburgh. The Mets are considering skipping Matt Harvey's final first-half start to (1) allow a blister to heal, (2) start curtailing his innings so he can complete the season without hitting a cap and (3) give him ample rest to start for the NL All-Star team.
Read more in the Daily News and Newsday.
• The Mets are lobbying hard to get Harvey the All-Star Game start, writes Mike Puma in the Post. Still, writes columnist Joel Sherman in the Post:
There is something in my sense of right and wrong in the sport that feels wrong the Mets will rig their rotation and likely shorten Harvey's workload on Saturday to make sure he is on the mound for the first pitch Tuesday night of what ultimately is an exhibition game. This seems too close a cousin to Jose Reyes bunting for a hit and being removed from Game 162 to secure a batting title. It is not a sacrilege, certainly not illegal, but even as it makes a bunch of people feel great, it still plays wrong on some level to me.
• Marlon Byrd's grand slam capped a five-run eighth inning and Anthony Recker earlier produced a two-run homer as the Mets beat San Francisco, 10-6, Tuesday night at AT&T Park. Dillon Gee surrendered five runs and walked five in 6 2/3 innings in a no-decision.
Read game recaps in the Post, Daily News, Newsday, Star-Ledger, Times and MLB.com.
• The Mets and a Native American group got into a squabble over a planned night celebrating the culture. The root of the problem, according to Scott Cacciola in the Times: The Mets scheduled the date coinciding with a visit by the Atlanta Braves, whose name is viewed as an insensitive. Writes Cacciola:
So in the past week, concerned that such activities might be interpreted by the Braves organization as a form of protest over its nickname, the Mets drastically reduced the day's activities: no singing, no dancing. And now there won't be any American Indians, either. On Monday, the A.I.C.H. pulled out of the event, citing frustration with the Mets for thwarting months of planning.
• After logging 16 innings Monday, the Mets had played 814 innings this season. That is the most innings through 86 games in MLB since the Houston Astros had the same total in 1995, writes Andrew Keh in the Times. The Mets are the first team to play four games of 15 innings or more before the All-Star break in major league history.
Writes Jared Diamond in the Journal:
The Mets entered Tuesday's contest here averaging 9.465 innings per game. Since 1920, the furthest back that Stats LLC tracks such curiosities, only two teams averaged more over a full season: the 1943 Boston Red Sox (9.471) and the 1969 Minnesota Twins (9.469).
• Gabriel Ynoa tossed 6 2/3 scoreless innings as Savannah beat Augusta, 8-1. Jeff Diehl's walk-off homer lifted Kingsport to a 3-2 win against Greeneville. Read the full minor league recap here.
• Tom Seaver will throw the ceremonial first pitch at the All-Star Games. Writes Bill Madden in the Daily News:
A year ago, on any given day, the mention of the Mets hosting the All-Star Game for the first time since 1964 might have easily drawn a blank look on Seaver's face. Forget about not registering places and events, Seaver had trouble remembering names and faces of people he had known for years. Even scarier was the fact that he didn't know why -- until finally, about six months ago, he went to see a doctor who, after administering a series of tests and scans, determined he did not have dementia, as Seaver had feared, but rather was suffering from Stage 3 Lyme disease. …
It has been a slow but steady road back -- Seaver still takes a bunch of pills, most of them vitamins, every day, has changed his diet and no longer drinks his beloved wine, not even the highly rated Cabernet he produces in his GTS (for George Thomas Seaver) Vineyard -- but Seaver, who was grateful a few months ago for feeling good for two to three straight days, now has mostly good days.
• Campbell Abbott in the Daily News reviews the charitable components of the All-Star festivities.
• Billy Witz in the Times profiles first-round pick Dominic Smith, and looks at the underrepresentation of African-Americans in baseball.
"That's what some scouts like about me; that's what some scouts hate about me. They see me play and feel like I'm not giving 100 percent, like I'm too cool," Smith told Witz in the feature. "But it's how I play -- I try not to get caught up in the antics or the emotion. I don't play the game with emotion. If you play with emotion, you make emotional mistakes."
• From the bloggers … The Eddie Kranepool Society suggests the Mets' resiliency could get Terry Collins an extension. … John Delcos at Mets Report suggests Collins' obligation with respect to Harvey is to the Mets, not the NL All-Star team.
BIRTHDAYS: Bob Bailor was born on this date in 1951.
TWEET OF THE DAY:
I'm I the only one who thinks the Mets can compete for a Wild Card the second half of the season? #Mets #LGM

— Jesus Ortiz (@ManuelSoDope) July 10, 2013
YOU'RE UP: Should Anthony Recker be the No. 1 catcher over John Buck?