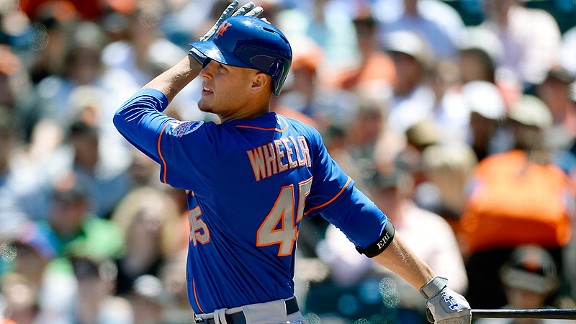 Thearon W. Henderson/Getty Images
Zack Wheeler drove in the first run of his career with a double Wednesday.SAN FRANCISCO
FIRST PITCH: Their hole is deep, but the New York Mets have been playing good baseball.
After sweeping the San Francisco Giants, the Mets have won 16 of their past 25 games. They have risen to eight games under .500 for the first time since May.
"I thought the energy level has been raised when we got E.Y. [Eric Young Jr.] and called some guys up from the minor leagues," Terry Collins said. "I think sending Ike [Davis] down got some people's attention. I certainly think there has been a different atmosphere in the clubhouse. A lot of it starts with David [Wright], his leadership and stuff.
"We've played a lot better, and we've still got a long way to go. We've got to go into Pittsburgh. They've got a real, real good team. They're playing great."
The Mets spend an off-day in Pittsburgh today, then open a weekend series Friday with Jeremy Hefner (4-6, 3.39 ERA) opposing right-hander Charlie Morton (1-2, 3.38). Since June 4, Hefner is 3-1 with a 1.64 ERA and .229 opponent batting average in seven starts.
Thursday's news reports:
• Matt Harvey's final first-half start will be skipped. Carlos Torres instead will face the Pirates on Saturday at PNC Park. Collins portrayed the motivation as primarily to curtail Harvey's innings without having to shut him down at the end of the season. Of course, that also further makes Harvey the best candidate for an All-Star start. Wink, wink.
Read more in the Post, Daily News, Times, Star-Ledger, Journal and Newsday.
• Zack Wheeler took a scoreless effort into the seventh inning and earned the win against the organization that drafted him and Marlon Byrd homered for the second straight day as the Mets completed their first sweep in San Francisco since 1994 with a 7-2 win Wednesday afternoon at A&T Park.
"I thought today he was in control of himself, so I don't think he was out there to show them, 'Hey, look, I've got this great arm,'" Collins said about Wheeler. "I think he just pitched. And so I thought he kept his emotions in check."
Read game recaps in the Post, Daily News, Newsday, Star-Ledger, Journal and MLB.com.
• Read more on Byrd in the Post and Daily News.
• Scott Atchison is expected to be activated from the disabled list when the Mets open the second half next Friday at Citi Field. Atchison likely would displace Gonzalez Germen in the bullpen. Read updates on Atchison, Justin Turner, Lucas Duda, Frank Francisco, Travis d'Arnaud, Tim Byrdak and Pedro Feliciano here. Read more in the Star-Ledger.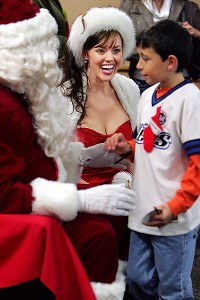 Ron Antonelli/NY Daily News Archive/Getty Images
Happier Times: Anna Benson as Mrs. Claus at Shea Stadium in 2005.
• In a jailhouse interview in the Post, Anna Benson says after her arrest: "I'm a good girl, a nice girl." Write Holly Aguirre and Kate Sheehy in the tabloid:
Anna demanded $30,000 while repeatedly screaming, "P---y!'' at Kris, cops said. She beat her chest with the baton like an ape, smashed her husband's computer terminal and pulled the gun out of her purse, said Kris Benson, 38, who was traded by the Mets in 2005 and has since retired.
"It scared me,'' he told cops.
Asked if he thought she'd shoot him, he said, "Maybe.''
The one-time ace told his out-of-control wife that he had to get his wallet -- and quickly fled to the basement, where he called 911, police said. He then ran out and into the woods until cops arrived.
• Michael Salfino in the Journal looks at recent history to analyze Harvey versus Clayton Kershaw for the starting-pitching nod for the National League. Writes Salfino:
Harvey entered Wednesday fourth in ERA (2.35) and second with just 0.92 batters reaching base per inning via a hit or walk. Kershaw's league-best averages in those two categories are 1.89 and .090, respectively, and he has 129 strikeouts.
Last year, manager Tony LaRussa selected Matt Cain, whose highest ranking was second in hits and walks per inning (eighth in ERA and fourth in strikeouts). And [Bruce] Bochy selected Roy Halladay as his 2011 All-Star starter despite Halladay also failing to lead the league in any of these categories. Cain and Halladay had longer track records than Harvey, though.
That said, Ubaldo Jimenez in 2010 was given the honor of starting his first All-Star Game by Phillies manager Charlie Manuel. Jimenez's rankings suggest he was rewarded primarily for what baseball sabermetricians consider the most unfair measure: wins. He was 15-1, yet failed to win 20 games.
• Binghamton's Josh Rodriguez, Cesar Puello and Allan Dykstra combined to go 0-for-7 in the Eastern League All-Star Game as their East squad lost, 5-0, on Wednesday night in New Britain, Conn. Logan Verrett allowed two runs in an inning, while Jeff Walters pitched a scoreless ninth in the loss.
Read the minor league recap here.
• Queens Borough President Helen Marshall is on board with putting a massive shopping mall in Citi Field's parking lot, the Daily News reports.
• The MTA will have extra trains running to Citi Field during All-Star festivities, the Daily News reports.
• As Anthony Recker chips away at his playing time, John Buck is 6-for-18 in his past four games, notes Richard J. Marcus in the Post.
• From the bloggers … Marlon Byrd tells Metsmerized the Mets are going to be good very soon and he would love to stay. … After battling injuries and being bounced back and forth between the bullpen and rotation, MetsMinors.net ponders the future of Jenrry Mejia. … John Delcos at Mets Report opines about skipping Harvey's start yet letting him pitch in the All-Star Game.
BIRTHDAYS: Short-lived Mets reliever Blaine Boyer turns 32.
TWEET OF THE DAY:
See Zack pitch, see Zack hit, see Zack get good reads on the bases and see Zack score!

— Darin Gorski (@darin_gorski20) July 10, 2013
YOU'RE UP: Will the Mets see .500?