Jeff Francoeur would not mind being traded to another organization if his playing time will continue to be minimal as a Met, and if a deal would help out his current employer.
Still, it appears farfetched that Francoeur actually gets moved, especially by July 31.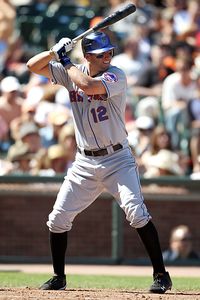 Brad Mangin/MLB Photos via Getty Images
Jeff Francoeur started Sunday in San Francisco against left-hander Jonathan Sanchez, then sat the next three games in Arizona.
For one thing, he currently is still owed $2 million of his $5 million contract for the season -- and teams are having a hard time adding that type of payroll even for a frontline pitcher.
Secondly, it would leave the Mets in a bind if Carlos Beltran does have a setback or another injury occurs in the outfield.
Also, Francoeur's production (.247, 8 HR, 42 RBIs, .297 OBP) could limit interest.
Francoeur did not start any of the three games in Arizona. He was in Thursday's lineup at Dodger Stadium, but that came on a rare night Jerry Manuel chose to rest Beltran and sit Jason Bay for a day to clear his head. Francoeur's future playing time may be limited to facing left-handed pitchers, such as Sunday's Dodgers starter, Clayton Kershaw -- if that much.
"You've got to ask yourself, 'If I'm playing once a week, how good am I going to be anyway?' because I've never done that," Francoeur said. "Some people have done that. I'm just going to show up every day and be ready to play and see what happens."
Francoeur said he did not request a trade.
"It's just the logical step, I would imagine," he said, adding: "I love it here."
Regardless, Francoeur likely would be eligible to be traded in August, when deal are permitted as long as the player successfully goes through the waiver process. That's how the Mets moved Billy Wagner last August for Chris Carter, after the Boston Red Sox claimed Wagner off waivers.
Francoeur said if a move made sense for the Mets and "if there's a chance to help me out," he would welcome a relocation.
He may be searching for new scenery this winter anyway. With the emergence of Angel Pagan, the arbitration-eligible Francoeur is a strong candidate to be nontendered in December given his current salary.