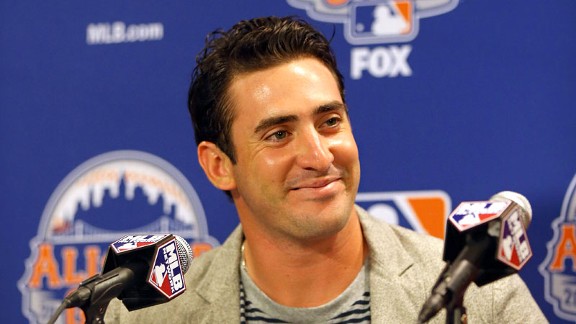 Mike Ehrmann/Getty Images
Matt Harvey relishes being a bachelor in New York City.
NEW YORK
FIRST PITCH: Matt Harvey has big expectations off the field, too.
Here are more quotes from a Men's Journal article we originally linked to in yesterday's Morning Briefing …
On waiting to buy a Manhattan apartment: "No matter what, New York is now my home. I could buy a place now, but I've gotta wait for that $200 million contract. If I'm going to buy an apartment, it has to be the best apartment in the city."
On his social life philosophy: "I have a 48-hour rule. No drinking two days before a start. But those other days? Yes, I'm gonna go out. If I was locked up in my house all week, I don't know what I'd be like on the baseball field."
On living in the East Village: "I'm young, I'm single. I want to be in the mix."
On Derek Jeter: "That guy is the model. I mean, first off, let's just look at the women he's dated. Obviously, he goes out -- he's meeting these girls somewhere -- but you never hear about it. That's where I want to be."
On being a savior: "I love the idea of coming into a struggling franchise and seeing if I can help them win. First off, I hate to lose. At anything. Secondly, who doesn't want to be the guy to help turn something around?"
Thursday's news reports:
• Speaking with David Lennon in Newsday, Sandy Alderson offered these thoughts:
The payroll will be "substantially higher" than $55 million, and could approach $100 million in 2014. "There's a substantial capacity there and hopefully we can use it," the GM said.
On contracts such as the ones handed to Shaun Marcum and Frank Francisco, Alderson said: "Something that has disappointed me is the inability to get any real performance out of some of the bigger investments that have been made."
On the ETA for competitiveness, Alderson said: "Was 2014 always a target year? Yeah. It should be an important year for us."
• At a charity golf event Wednesday to benefit Superstorm Sandy recovery, Ike Davis said via Zach Braziller in the Post: "I just want to play better and prove that I am a decent big leaguer, I am a good big leaguer. I feel pressure because I want to play better. I really don't worry what they're going to do, where they are, because I have no control in that. ... I want to play better just because obviously I don't like doing bad and it doesn't help the team when I do bad. It's more self-driven to play better and help the team."
Read more on Davis in the Journal, Daily News and Newsday.
• Jorge Castillo in the Star-Ledger writes the Mets' rotation has exceeded expectations.
• Mitch Williams picks Harvey for the Cy Young, writes Howie Kussoy in the Post. Columnist Bob Klapisch in the Record picks Harvey as the runner-up to Clayton Kershaw.
• Michael Salfino in the Journal suggests the Mets ought not trade Bobby Parnell.
• Mike Kerwick in the Record assigns grades to the Mets. He also suggests five second-half games to watch and previews the second half.
• Justin Turner, who is expected to be activated from the disabled list for the weekend series against the Phillies, combined with shortstop Wilfredo Tovar to turn a triple play, but Binghamton lost to Richmond. Kyle Johnson, acquired in the trade for Collin Cowgill, had three RBIs as St. Lucie beat Brevard County, 9-3. Read the full minor league recap here.
• Ruben Tejada has switched agents, leaving Peter Greenberg (who represents Jose Reyes and Johan Santana, among others) for Barry Praver and Scott Shapiro, according to ESPN.com's Jerry Crasnick.
• The Mets confirmed Marcum underwent surgery Monday in St. Louis for neurogenic thoracic outlet syndrome. Dr. Robert Thompson performed the surgery at Washington University Hospital.
• From the bloggers … Faith and Fear in Flushing remembers Citi Field's longest day of 2013 and sets it to music. … The Eddie Kranepool Society reviews All-Star week. … John Delcos at Mets Report writes how the Mets responded to their first-half question marks.
BIRTHDAYS: Joe Torre, a player-manager for the Mets in 1977 and now MLB official, turns 73. He managed the Yankees between those two gigs.
TWEET OF THE DAY:
Remember this? pic.twitter.com/MNFldAnIMS

— Howard Johnson (@20Hojo) July 18, 2013
YOU'RE UP: What do you make of Matt Harvey's quotes in Men's Journal?